Lynk & Co's chief executive has said that he will not employ franchised car retailers to sell his subscription-based SUV mobility service, branding showroom visits as what car buyers "hate most".
Former Ford, Opel and Volvo executive Alain Visser has said that the Geely-owned brand, which is soon to enter the UK market, will drive reliability to reduce aftersales activity and operate through an online platform, flagship stores and pop-up facilities as it looks to pioneer a subscription-led mobility solution.
In an interview with Automotive News Europe this week, Visser – a former vice-president of sales, marketing and aftersales at Opel and senior vice-president of marketing, sales and customer service at Volvo – said: "It's a bit provocative when I say this, but there's something not very ethical about the car industry.
"We have traditionally made money on servicing cars, not selling them. So we make money on making customers do what they hate most, which is going back to dealers."
In January this year AM reported how Lynk & Co claimed the title of the 'world's fastest growing car manufacturer' after securing 120,414 sales in its home market of China in the brand's first year on sale.
The brand, which has a European base in Gothenburg alongside sister company Volvo, achieved the success from a new sales model which, it claims, "abandoned the traditional automotive concept of base models, entry points and endless options lists".
Ahead of its arrival in Europe in 2020, Lynk & Co also claims to have "made the traditional showroom experience redundant" by leading its retail proposition with an online offering linked to unique retail stores that offer visitors open surroundings that include a café-bar, cinema and children's play area.
In the space of three years the subscription service-based brand has gone from being an idea from Gothenburg, Sweden, to becoming the world's fastest-growing brand, wrapping up 2018 with 221 retail shops opened in China.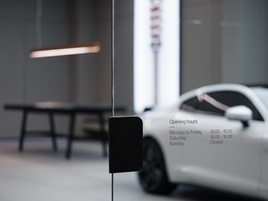 While Geely's other breakthrough brand, Polestar, is set to establish a UK franchised dealer network – albeit in smaller, urban Polestar Spaces – Visser told (ANE) that would not be the case with Lynk & Co.
He said: "We believe our customers won't go to car dealerships."
Lynk & Co will begin its European offensive with the launch of the China-built 01 compact SUV, which shares its underpinnings with Volvo's XC 40 SUV.
Lynk & Co's first European stores are set to open in 2020 in Amsterdam, Berlin, Brussels, Stockholm, London and Barcelona.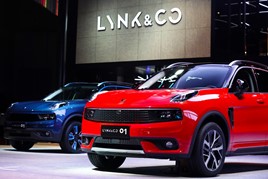 Described as a 'smartphone on wheels' the SUV-led model offensive will deliver vehicles powered by either traditional hybrid, plug-in hybrid or EV drivetrains.
All models feature a large central touchscreen and telematics systems – always connected to the internet and the car's own cloud.
Visser told ANE that OEMs faced a situation where they become "mere suppliers to companies that offer more mobility options" if they do not actively pursue a subscription model, a subject explored in last month's edition of AM magazine.
He said that research carried out by the brand had indicated that mobility customers, who currently invest in train and taxi travel, would be willing to spend €500 (£461) a month on a vehicle subscription.
He said that as customers came out of a new subscription, however, they may be offered a lower rate to move into an older 'pre-owned' Lynk & Co vehicle.
The durability of the products being produced would be key, he said, with the subscription model benefitting from a reduced servicing requirement.
He said: "For us, that's where we lose money, because in a subscription the service is part of the cost. So the more our cars need repair, the less we profit."
In the February edition of AM magazine Frost and Sullivan partner and board member Sarwant Singh suggested Lynk & Co was among brand's that would typify new entrants to the UK automotive sector in the years to come – forgoing the traditional franchised network model.
"I don't foresee a time when another car manufacturer will enter the UK with a desire to establish traditional franchisee relationships or any significant physical presence," he said.
Geely's Polestar and Lynk & Co brands, along with fellow new market entrant, Byton, all have one thing in common – none intends to establish a franchised retail network of any scale.
"I foresee brands coming and perhaps having a presence in five or six cities across the UK and that will be it, like the model set to be adopted by Polestar," Singh told AM.
"Chinese automotive manufacturers who have, in the past, put one or two products into Asia or Latin America are now looking to Europe and, with some very high-end electric vehicles (EVs), are keen to claim a share of the market.
"It looks like their first stop will be the UK, as it is seen as a slightly easier, softer entry than the more shark-like territory that is Germany.
"But key to any luxury brand entering the market now has to be a very attractive lease or rental model first and foremost."