Citroen franchisees have been revealed as Britain's biggest new car price discounters in research compiled by What Car? magazine.
Sharing its market insight into the biggest new car saving available to consumers ahead of the introduction of the new '20' registration plate on March 1, What Car? revealed that Citroen retailers offered an average of 16.4% (£4,431) off a new car.
Seat followed as the UK's second largest discounts, with an average saving of 15.6% (£4,071), while Nissan came in third with an average price cut of 14.1% (£3,667).
Despite being absent from the top ten ranking of What Car? savings by brand, Fiat did feature with the largest individual percentage discount, with its Tipo hatchback attracting discounts of close to 30% available off its RRP.
Citroen's C4 Cactus was the second most discounted car to feature in the What Car? data, with a 26.84% average saving (£6,472).
What Car? compiled its discounts data as part of its Target Price initiative, using intelligence gathered by a team of mystery shoppers, who negotiate daily to find the best new car deals available across the UK.
Commenting on the findings, What Car? editor, Steve Huntingford, said: "The months leading up to March often see buyers doing their homework before signing on the dotted line.
"What's encouraging is that some of the most popular models on the road are being offered with very high discounts, exceeding 20% in some cases.
"Our research also suggests manufacturers are responding to the general dip in sales, with discounts this year nearly 22% higher than last year. That makes it a great time to shop for a new car."
The average new car discount so far in 2020 is 21.82% (£840), according to What Car? data.
The top ten most discounted car brands, according to What Car?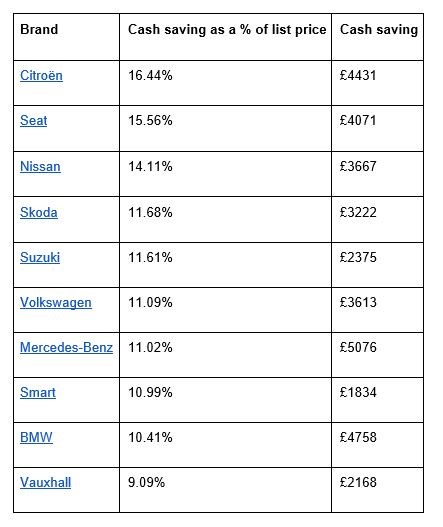 The top ten most discounted car models, according to What Car?