Vauxhall has followed fellow PSA Group brands Citroen and Peugeot into the offer of online new car retail sales with the launch of a new consumer-facing platform.
Visitors to the Vauxhall Online Store can configure a vehicle, personalise finance payments and order entirely online while taking advantage of exclusive online savings of between £750 and £4,000 across the Vauxhall model range.
Online orders also attract a free three-year Vauxhall Care Service Plan - including collection and delivery - with orders placed before January 11 also receiving a year's free insurance.
The brand said that the new Vauxhall Online Store supports click and collect from a Vauxhall retailer, with a choice to either 'click and collect' their new vehicle or arrange home delivery.
A statement issued by the brand said: "The Online Store will help Vauxhall interact with increasingly digital buyers, bringing the same standard of expertise and experience from its showrooms to buyers' homes."
It added: "The Online Store will also help new Vauxhall buyers interact with Vauxhall's retail network from their laptops, computers, tablets and smart phones.
"When configuring their next car, customers can set up live, one-on-one tours with a product expert via Vauxhall's Virtual Showroom, who will help answer any questions about the vehicle as well as highlight key features as part of a studio walkaround."
EV promotions
Vauxhall retailers across the UK were this week gearing-up for the brand's electrification push with the offer of a free home charging unit and 30,000 miles of free electricity as part of a partnership with British Gas.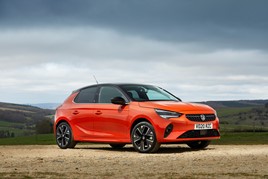 All new Corsa-e customers are eligible for the scheme, which runs from December 8 to January 11 and claims to offer savings equivalent to £2,900 over an equivalent Corsa 1.2 100PS petrol model at today's petrol prices.
In November, the brand rolled out a 48-hour test drive campaign for the Corsa-e electric vehicle (EV).
Retailers are also now accepting orders for the all-new Mokka SUV, which is priced from £20,735 (OTR).
Deliveries of the Mokka-e EV will start in April 2021.
The Mokka-e, uses the same 136PS electric motor and 50kWh battery setup as the Corsa-e, giving a range of 201 miles.