Japanese car franchises Mazda UK and Suzuki GB have said that their car dealers will not feel the impact of the Suez Canal shipping crisis.
Around 49 container ships were set to pass through the Suez Canal in both directions in the seven days after the Ever Given ran aground on the vital shipping route on Tuesday (March 23).
Delays to those ships and concerns that a resulting wave of container ships could overwhelm Europe's ports have led to supply issues across various sectors.
But in statements issued to AM two of the UK car retail sector's key vehicle importers claimed that their customers and franchisees would not be unduly affected by the incident.
"Suzuki received sufficient stock to the UK at our Portbury facility prior to this event and is ready for when dealers re-open from April 12," a Suzuki spokesperson told AM.
Suzuki's statement added: "Two further ships have already passed the affected area and we remain in contact with our shipping partner to check on any possible future delays to our Japanese manufactured models."
Mazda UK said that none of its cars were currently stuck in the Suez Canal, adding that it was "not anticipating any supply delays".
The brand said in a statement: "Mazda UK planned for a strong recovery following the COVID-19 Lockdown and our immediate stock coverage both at dealerships and in central compounds is very healthy."
Greg Knowler, senior European editor at JOC Group, the world's authoritative provider of business intelligence, information and events for trade, transportation and logistics professionals suggested that the impact of the Suez incident could be felt for some time to come, however.
He said that "every ship that is available to shipping lines has been deployed" as part of attempts to mitigate against the impact on the supply chain, but said that the impact will be felt at ports further down the lne.
"European terminals will be hit by a surge of container volume that will temporarily overwhelm their handling capacity," he said. "Rotterdam and Antwerp expect ship wait times to lengthen, and expect it will take longer to handle ships and clear containers from the yards, and businesses will have to wait longer for their imports.
"This will likely lead to further deterioration in carrier on-time performance, and the capacity available to European importers will be reduced until shipping lines are able to restore their weekly schedules.
"Congestion across Europe from next week is inevitable, it is just the extent of the delays that remains to be seen."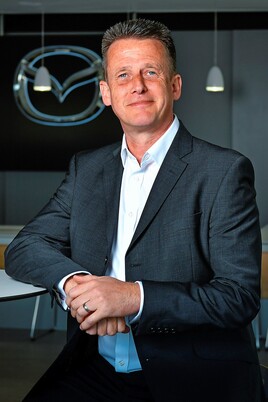 At this month's launch of the new MX-30 EV, Mazda UK managing director, Jeremy Thomson, spoke about the positive impact of the new UK-Japan trade deal on the brand's wholly imported model line-up.
Thomson said that and improved Yen/pound exchange rate and the new free trade agreement with Japan would be key to a "levelling-up" of the market for Mazda UK.
"Tariff levels have been a critical factor that's created a glass ceiling for Mazda in the UK over the decades", he told AM.
"It's meant a 10% tariff on cars as well as a tariff on parts and that equates to tens of millions of pounds a year. We now don't have the financial penalties, so its' life in a level playing field.
"For 20 years at Mazda UK it's been a factor in how we structure the business and that's why we have a very retail balance to the mix."
Thomson said that Mazda was not about to launch an assault on the fleet market, but said there were more profitable avenues of the sector which he would like to pursue, adding: "We'll carefully balance what's right".
Thomson told AM that the brand plans to "capture back" 50% of March sales lost to COVID-19 'Lockdown 3' showroom closures in April, May and June.