Lotus Cars has opened a new first-of-its-kind brand store opposite the Ritz hotel, at the heart of London's prestigious Mayfair district.
The new two-storey site is funded and operated by the manufacturer, in line with its direct sales strategy.
Featuring a three-car showroom to house the Geely-owned British sports car brand's new line-up of Eletre SUV, Emira coupe and Evija supercar models, the Lotus Mayfair facility, located on the corner of Berkeley Street and Picadilly, covers more than 450 square metres of retail space, making room for a Lotus merchandise retail outlet alongside a VIP lounge and a digital configuration suite.
Mike Johnstone, chief commercial officer at Lotus Group, said: "The opening of our new store demonstrates our commitment to transform Lotus to a global luxury performance brand.

"We have seen a huge demand for our products and have ambitious plans to scale rapidly by 2028, and brand centres around the world will play a key role in building both the Lotus brand, and long-lasting relationships with our consumers."
The site serves as the brand's first digitally driven flagship showroom in Europe - a 'Hyper Space' which embodies Lotus' vision to become a global performance brand.

In 2018, Lotus revealed Vision80 and its plan to transform the brand from a heritage automotive company to an all-electric, luxury mobility provider by 2028 – when the business turns 80.
A key part of the new strategy is to deliver sales growth. Niels de Gruijter, executive director of Lotus Cars Europe, said the company will sell 150,000 cars in 2028, a significant uplift on the 1,500 units sold in 2022.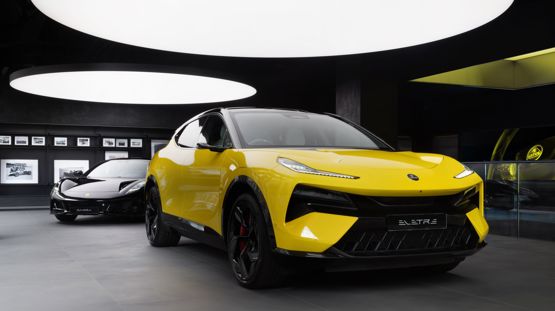 The new Eletre electric SUV will kickstart the brand's registrations, bolstered by the introduction of a second SUV and an executive saloon car
De Gruijter added: "We need to tell the brand story, we need to show the cars, we need to have the experience of the brand at the right spots. And that's why we are here, at this iconic location in the middle of London.
Lotus plans to open more brand centres across Europe, with sites in Paris, Oslo, Munich and Houten (The Netherlands) to follow later this year.

These will complement its existing network of retail sites, which totals 193 globally.

By 2025, Lotus expects to have 300 retail sites.
In the UK, the company has 15 retailers operating as agents. It plans to grow this number to 20 by the middle of the decade and eventually to 35 sites.
Visitors to the London showroom will be able to purchase Lotus merchandise in-store, as well as other co-branded products.

For example, Lotus and KEF recently announced the new LS60 Wireless floor speakers, and these are now available to purchase at Lotus London.
Car sales, handovers and test drives will not take place at the brand store, however. De Gruijter told AM that customers will be directed to local agents to conduct test drives and to take delivery of their vehicle. Sales are handled centrally, by Lotus Cars.
Lotus switched to an agency retail model for its franchised car dealers across the globe, shortly after unveiling a new global corporate identity (CI) for their retail sites.
In conversation with AM following the move, sales and aftersales director Geoff Dowding said he was sure that the model would be become more widely adopted but agreements must be "balanced, collaborative and win-win"
He added: "It's been a huge amount of work, a phenomenal change of process and it's never easy to 'fix the plane as it's flying', as they say."