Ford almost doubled its registrations to lead the Society of Motor Manufacturers and Traders (SMMT) ranking of the UK's best-selling car brands in September.
Year-on year growth of 92.2% drove the blue oval's total registrations to 20,735 units in the key numberplate change month as Volkswagen's volumes rose by 15.6% to 18,996 following a more consistent showing in September 2021.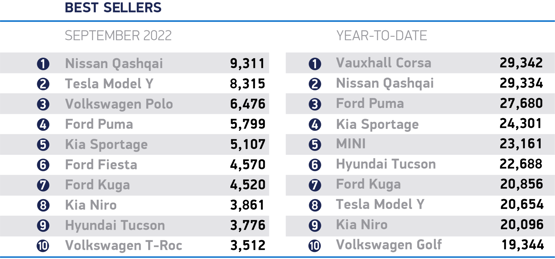 The Puma crossover – the UK's second-best selling car of 2022, behind Vauxhall's Corsa – was once again Ford's best-selling model, with 5,799 sales putting it 1,229 units ahead of the Fiesta hatchback.
Nissan's Qashqai topped the best-sellers rankings last month, however, with its 9,311 registrations beating the Tesla Model Y's 8,315 in second place.
Elon Musk's electric vehicle (EV) brand continues to be one of 2022's growth success stories, with registrations now up 45.5% year-to-date at 32,218 units securing it a market share of 2.67%.
Among the other prominent YTD performances are: Hyundai, up 21.1% at 64,094; MG, up 66.9% at 38,312; Dacia, up 60.4% at 21,280; and Cupra, up 92.9% at 10,473.
They have also significantly grown their market share during a year which has seen shortages of semiconductors and other components limit supplies.
Kia, meanwhile, remains on track to reach its target of registering 100,000 cars in the UK during 2022 after reaching 83,105 units by the end of September, up 12.2% YTD.
Supplies permitting, the target set by president and chief executive Paul Philpott, could still be possible.
Aside from Cupra, Bentley and Porsche stand out among the Volkswagen Group brands for their growth in a year that has proved tough on Seat (down 55% YTD) and Skoda (down 22.9% YTD), in particular.
Bentley's 27.9% growth to 1,243 units and Porsche's 48.7% growth to 11,948 ahead of its IPO appear to suggest the group is targeting high-margin brands amid supply constraints.
However, Audi's registrations have also dipped by 18.9% YTD to 80,045 to keep it just ahead of premium brand rival BMW (down 14.7% at 79,645).
> MORE: Manufacturer registration data