Registrations of new cars in the plate-change month of September reached 225,269 units; the 4.6% uplift marking the new car market's second successive month of year-on-year growth, SMMT data shows.
Registrations by large fleets drove the uplift. The fleet sector was up by 12.5%, while registrations to private buyers - still responsible for most demand - fell by 3.6%.
The Nissan Qashqai was the best-seller in England, Wales and Northern Ireland but in Scotland it was knocked into second place by the Vauxhall Corsa.
Ford was the overall market leader in September, with 20,735 sales - almost double its September 2021 result - and 9.2% share of the market, while rival Volkswagen trailed it with 18,996 registrations and 8.4% market share.
The Society of Motor Manufacturers and Traders pointed out that although September recorded growth it remained 34% behind pre-pandemic September 2019, which indicates the continued disruption to the automotive supply chain.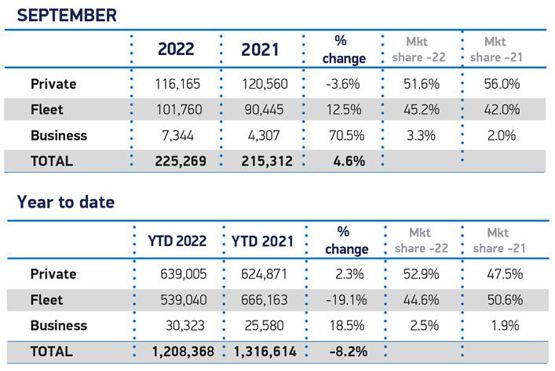 "The industry continues to battle issues constraining supply to fulfil a backlog of orders," said the SMMT.
"While growth is welcome following a torrid first half of the year, total registrations for 2022 remain down -8.2% on a weak 2021 performance and more than a third (-35.1%) below the first three quarters of pre-pandemic 2019, equivalent to 653,903 fewer units."
Plug-in vehicles accounted for more than one in five new cars joining UK roads in September as OEMs continue to increase supply of low- and zero-emission cars to support the UK's transition away from pure petrol or diesel new cars by 2030.
While plug-in cars first became available more than a decade ago, and sold in small numbers, almost a quarter of a million plug-in cars have been sold in 2022.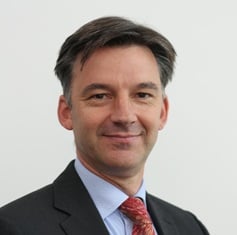 Mike Hawes, SMMT chief executive, said: "September has seen Britain's millionth electric car reach the road – an important milestone in the shift to zero emission mobility.
"Battery electric vehicles make up but a small fraction of cars on the road, so we need to ensure every lever is pulled to encourage motorists to make the shift if our green goals are to be met.
"The overall market remains weak, however, as supply chain issues continue to constrain model availability. Whilst the industry is working hard to address these issues, the long-term recovery of the market also depends on robust consumer confidence and economic stability."
September's growth followed a 1.2% rise in August and is the third month of increases in 2022.
"We're approaching a turning point in the car market," said Auto Trader's commercial director Ian Plummer in response to the September figures.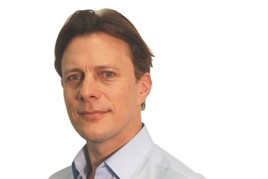 "For the past 18 months, manufacturers have been struggling to get vital components, such as semiconductors due to COVID and then exacerbated by the war in Ukraine. But the signs are that these supply pressures are now beginning to ease, with more availability of essential parts which will help a number of manufacturers fulfil some of their order backlog."
Plummer said the positive performance in the fleet channels, which have largely been overlooked recently in favour of more profitable retail sales, is a good sign.
"Although we're still a long way off rental companies being able to renew all of their fleets, it does mean that those motorists on leasing contracts will begin to see better signs of supply to renew their cars."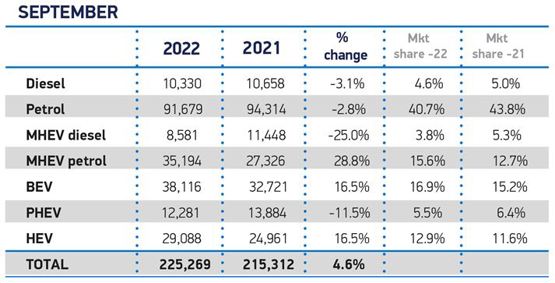 Chris Knight, automotive partner at KPMG UK, believes the industry cannot sit back now as higher household costs will shape new car demand.
"As consumer credit becomes more expensive due to higher interest rates, we expect to see a fall in the average price paid for new vehicles, whilst some consumers will delay buying a new car altogether.
"For existing customers facing increased outgoings, some will question the affordability of their car payments," Knight added.
"Manufacturers are working hard not to pass their own cost increases onto customers in the form of higher prices. Whilst lower cost brands may feel this combination of factors presents opportunity to grow market share."
MORE: New car registrations data - by manufacturer and historic