Used car buyers searched for more Ford Fiesta and Focus models than any other car on Motors.co.uk this year.
Both models replicated their performance from the end of last year, according to the car search website's annual report.
The third most sought after car was the Volkswagen Golf followed by the Vauxhall Corsa and the BMW 3 series in fifth place.
The only new entrant in the Top 10 was the Nissan Qashqai which moved from eleventh place in 2017 to tenth place in 2018, with the Vauxhall Astra moving the other way, dropping from eighth place in 2017 to eleventh in 2018.
"The most searched for used cars on Motors.co.uk shows the popularity Ford enjoys among new car buyers is also present in the used sector," said Dermot Kelleher, Motors.co.uk's director of marketing and business intelligence.
Prestige cars were one of the most popular segments identified by the Motors.co.uk research. The BMW 3 series, Mercedes-Benz C-class, Audi A3 and BMW 1 series all featured in the overall Top 10.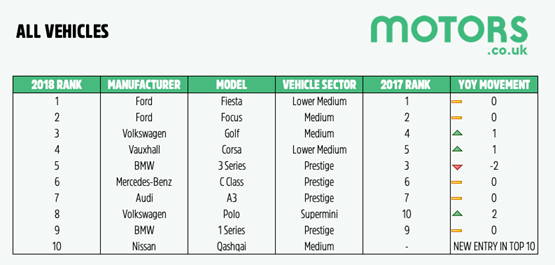 "Many industry commentators have declared 2018 the 'Year of the Used Car', because of the high level of sales reported by some of the country's biggest franchised dealer groups and the strength of the supermarket and independent sectors. Our research confirms just how busy buyers have been online searching for their next car and we expect this high level of activity to continue into 2019," added Kelleher.