New car registrations dipped further into decline as the Society of Motor Manufacturers and Traders (SMMT) recorded a further 4.6% fall during May – leaving the UK's total sales 3.1% down year-to-date.
A total of 183,724 units were registered last month as petrol and alternative fuel vehicles (AFV) vehicles each recorded increases – of 1% and 11.7% – but diesel registrations suffered an 18.3% slump as the fuel type suffered its 26th successive month of decline.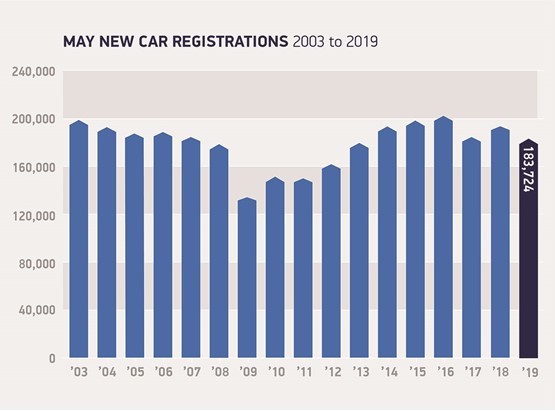 The SMMT said that the fall reflects continued uncertainty over diesel and clean air zones as well as the removal of incentives for plug-in hybrid vehicles.
Petrol electric hybrids experienced increased demand, up 34.6% to 7,785 units, as fully electric vehicles (EVs) recorded a significant rise of 81.1%.
Full EVs still only represent 1.1% of the overall market, however.
Plug-in hybrids, meanwhile, appear to have fallen dramatically out of favour with new car buyers.
Another substantial decline of 40.6% in May left plug-in hybrid registrations 25.1% down year-to-date.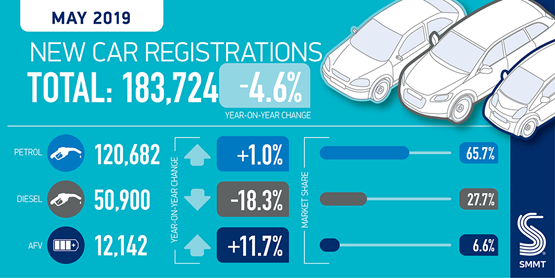 The SMMT said: "This compares with a 36.2% increase in the first five months of 2018 and is further evidence of the removal of the purchase incentive for PHEVs."
SMMT chief executive, Mike Hawes, said: "Confusing policy messages and changes to incentives continue to affect consumer and business confidence, causing drivers to keep hold of their older, more polluting vehicles for longer.
"New cars are safer, cleaner and more advanced than ever and, with sophisticated safety, efficiency and comfort features as well as a host of attractive deals on offer, there has never been a better time to invest in a new car."
The SMMT reported declines across all sales types in the month, with registrations by private consumers down by 5% as fleets and business sales dipped by 3% and 29%.
Executive and 'dual purpose' vehicles were the only vehicle types to buck the trend of decline, it reported, with registrations growing by 9.1% and 16%.
Superminis and small family cars remained the market's most popular vehicles, taking a combined 56.3% of the market, despite also suffering declines.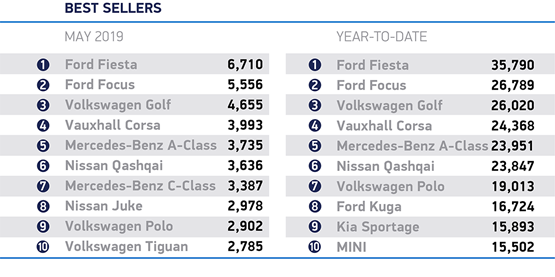 Commenting on May's registrations results, Seán Kemple, director of sales at Close Brothers Motor Finance, said that it had been "another disappointing month for the sector", describing the further decline as "a worrying phenomenon as we approach the traditional summer slowdown".
He added: "All eyes now are on alternative fuel vehicles. The used AFV market is growing at a far more impressive rate than the new one, with the situation of range anxiety, consumer awareness, and recent reports of struggling infrastructure beginning to improve.
"To improve the new market we need a firm commitment from the government on the next steps for infrastructure in the UK and, with manufacturers such as Tesla supercharging the network, there may be opportunities for manufacturers and Westminster to work together.
"There are certainly opportunities here for dealers too to capitalise on by ensuring both the forecourt and digital showroom are up to scratch."
Sue Robinson, director of the National Franchised Dealers Association (NFDA), said that she believed consumers will continue delaying decisions on major investments such as new vehicles until we have greater clarity to put paid to the current political and economic uncertainty.
"Pleasingly, despite the decline in new vehicle sales the used car market continues to perform strongly demonstrating that the consumer still has options when it comes to purchasing vehicles," she added.
"Franchised retailers continue to benefit from the growing used vehicle market and the associated aftersales segment.
"We will continue to support franchised retailers through this unprecedented period of political uncertainty and continue to call on the government to provide clarity for the UK automotive sector."