The National Franchised Dealers Association (NFDA) Consumer Attitude Survey has revealed evidence of consumers increased interest in car dealership visits despite warnings that buyers intention is failing.
NFDA director Sue Robinson this week asserted that physical car retail spaces still appeal to a new breed of internet-savvy car buyer in light of the findings of its seventh consumer attitude survey, which is executed by Public Knowledge through a poll of 2,000 car buyers.
But her comments came as new research suggested retailers might be battling for a dwindling share of sales.
A study published by Deloitte indicated that less than 4% of UK consumers are planning to purchase a car in the next three months as confidence in the economy falters while research published by car sharing specialist Share Now suggested the roll-out of ultra-low emission zones (ULEZ) across the UK could remove 3.5 million vehicles from the roads.
The NFDA's survey found that 50% of consumers visit a car dealership website before purchasing a vehicle but 32% of respondents bought a car from a physical franchised dealership without using any dealer, manufacturer or other car sales website before buying the car.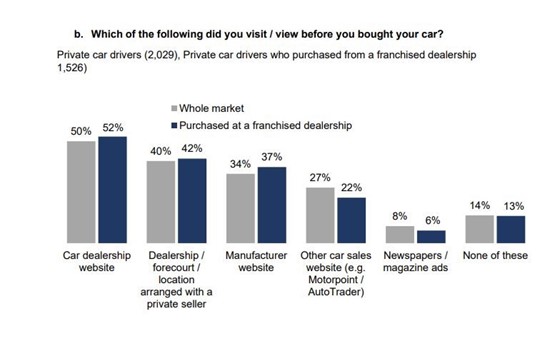 It also revealed that 75% of car purchases, for cars under seven-years-old, are made from franchised dealers; 14% independent garages; 5% used car supermarkets and 5% from private sellers, with 93% of new cars bought at franchised dealerships.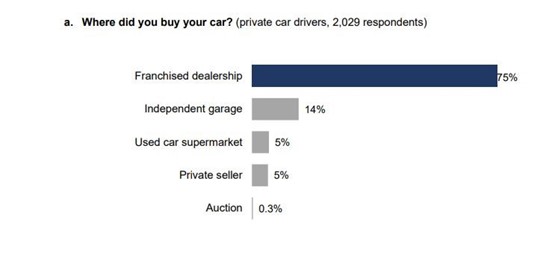 The findings showed that 63% of consumers intend to purchase their next vehicle from a franchised dealer showroom and 9% from a franchised dealer website.
Robinson said: "The survey has revealed a growing trend towards online retailing and the importance of the customer experience online going forward.
"As a result, a strong digital strategy is vital in today's market, but consumers continue to see physical dealerships as an essential element of their buying journey.
"With the range of new vehicles coming to the market and their modern, innovative features, consumers are more likely to want to see a car before they buy it.
"Additionally, consumers place significant value on their interaction with retailers, where they look for advice and reassurance."
Robinson added: "It is encouraging to see that retailers continue to play a key role in informing consumers and helping them find the vehicle that best suits their needs".
Bleak outlook
But the outlook for car sales looked bleak according to insight published by Deloitte.
The consultancy's latest Consumer Tracker report – based on a survey of 3,000 consumers – found there has been a steady decline in planned purchases over the last year as consumer confidence falters in a market impacted by Brexit and uncertainty surrounding Government policy towards diesel and alternative fuel vehicles (AFVs).
While the report found that consumers are generally comfortable with the affordability of their car payments, with 57% of respondents claiming that they would keep their monthly payments the same if they were offered the chance to change the terms of their plan without a penalty, 13% said they would be willing to downgrade their car or end their lease to reduce their monthly costs.
Michael Woodward, UK automotive lead at Deloitte, said: "The UK new car market declined 2.5% in the first three quarters of the year and is at its lowest level since 2013, according to the SMMT. Unfortunately, there is no sign of a quick fix.
"The percentage of consumers planning to purchase a car in the next three months has fallen from a high of seven per cent in Q4 2017, to just under four per cent this quarter – the lowest level recorded since the Tracker began.
ULEZ impact
Research published by Share Now indicated, meanwhile, that scheme's like the £2,000 scrappage allowance announced by the Mayor of London Sadiq Khan this week would do little to counteract the impact on car sales of the ULEZ schemes starting in London and set to roll-out into the rest of the UK.
Despite Nissan's assertions that tough urban emission policies will drive consumers into electric vehicles (EV), Share Now found that 28% of people in the South East of England are planning on selling their cars due to the London ULEZ expansion in 2021, with 10% stating that they will not be replacing their cars at all, choosing to use public transport, walk, cycle or use car sharing instead.
Meanwhile, it claimed that 21% of people across Great Britain are planning on selling their cars due to ULEZ, and 9% will not be replacing them at all, which Share Now claimed could lead to 3.5 million fewer cars on British roads.
Stephen Bee, Share Now UK's regional director of business development, said that it was "great to see that the ULEZ is encouraging people to reconsider their relationship with their cars".