The new car market will decline 1.5% by volume in 2020 as consumer confidence and vehicle emissions regulation continue to play key roles, Cazana's latest market update has predicted.
In his analysis of the opportunities and potential pitfalls currently impacting the market, the car retail data specialist's director of insight, Rupert Pontin, said he expected used car sales to increase by 2.5% in a "finance driven market", however.
Read on to discover Pontin's reasoning and more scrutiny of the market forces at play in the year ahead.
When contemplating the coming year, the first thing to consider is the confidence levels for 2020. These will give an indication of how both consumers and businesses anticipate the journey through the coming months.
The chart below, created by Trading Economics, shows the pattern of consumer confidence from the beginning of 2019 through its anticipated trajectory to the end of 2020: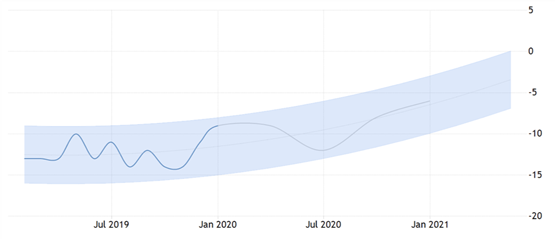 After an eventful 2019, the first half of the year is likely to see confidence stabilise before it dips and then refreshingly rises again through to the beginning of 2021.
This is a different viewpoint to the business sector and may come as a surprise to some, although it clearly shows that 2020 might well be a good year in the eye of the consumer.
As such, it would be sensible to create a plan to capitalise on this sentiment, especially in the early part of the year in case predictions shift to replicate the business sector forecast as the year progresses.
It is also important to understand that despite positive forecasts, registrations and sales can only be achieved if there is the right supply of cars.
2019 saw peaks and troughs in new car supply predominantly driven by legislative requirements and the influence of European demand.
2020 looks to be a more stable year, although, this will be dependent on future legislation in the form of clean air zones and perhaps taxation, as the Prime Minister begins to push for cleaner air for all.
However, the used car market is likely to have a greater supply of cars as a result of the short-term PCP and PCH activity over the last three years or so, which is why used car sales are likely to improve during the course of the year.
Used car finance products will continue to evolve and more accurate science-based forecasting will facilitate higher future RV's and therefore better lower monthly costs. This will be necessary to keep the market moving.
The push towards the ban on the sale of fossil fuel powered cars from 2035 certainly took the industry by surprise, and later comments from the transport secretary hinting that this may come closer still have worried the industry as a whole.
Whilst CAFE regulations will continue to encourage OEMs to manufacture cleaner cars in fear of financial penalty, and hybrid models become more prevalent, the real push must be towards BEVs and therein lies the problem.
Expect 2020 to be packed full of new hybrid model launches but remember this is a transitionary phase and these cars will swiftly be replaced by more efficient models that give better electric driving ranges.
This is great but the desirability, and as such pricing of these hybrid vehicles in the used market, will fall quickly as the new technology improves and that will begin to become problematic as the reality that these cars do not meet the expectations of the consumer in the real world also hits home.
The pressure to develop better BEVs and ramp up production to provide a sustainable growth plan to meet the 2035 target, will also be a big part of 2020.
The direct impact on the new car market is likely to be a shortage of product which could drive new car pricing even higher.
This impact on pricing will then feed the used car market and as consumer demand improves during 2020 there is an expectation that retail and therefore trade pricing will rise for those propulsion types.
The chart below shows pricing movements for hybrid and electric cars over the last year: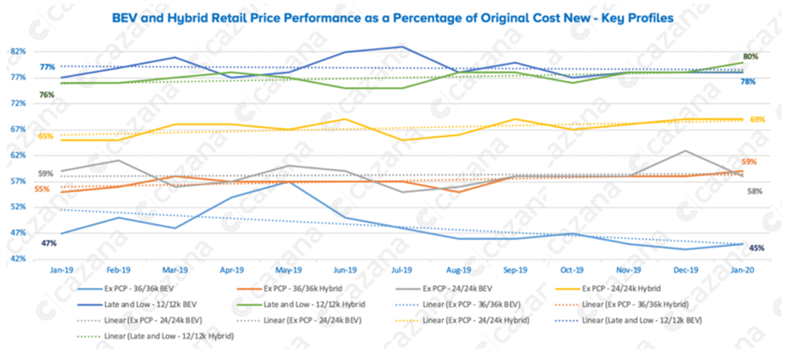 The chart confirms that retail and therefore wholesale pricing is on the up for all ages of hybrid vehicles, whilst only the newest BEVs are increasing.
Expect this to change during 2020 with greater demand for the newer BEVs, whilst hybrid pricing may start to fall as supply exceeds demand.
Focusing a little more closely on the used car market and there are a couple of specific areas of concern for the coming 12 months.
New car registrations have been falling but as part of the drive to keep momentum in the market and cars on the road by way of the explosion of PCP finance penetration in recent years, these cars may be about to bite back.
Specific activity in 2017 and 2018 from most of the OEMs means that in 2020 a significant number of ex-PCP cars will be heading for the used car forecourts.
It is crucial to not only be aware of the impending increase in returns but also to understand that there was a significant push on certain types of cars.
Therefore, in 2020, expect to see an increase in the number of Crossover SUVs and small cars at two and three years of age.
Given that the new car market will be more of a challenge, there will be more used car buyers but whether they want these types of cars remains to be seen.
At times last year, the excessive pre-registration activity required to move new car stock resulted in some downward pressure on late and low mileage cars.
This in itself was uncomfortable but it did impact on pricing further down the age range for a short period in September and October particularly on petrol powered cars.
Should volumes of certain ages increase noticeably, then there is the danger that pricing will compress where the stock is prevalent and push downwards, thus narrowing the gap for cars on different registration plates.
This is of particular concern for petrol powered cars that have already shown a period of pricing weakness in 2019.
Therefore, it is important to be aware that this is likely to be a problem in 2020.