Order books have been opened for the new Volkswagen e-up! with the updated model offering a 159-mile zero-emission range and a £19,995 entry point to VW EV ownership.
The German brand's smallest electric vehicle now claims a real-world range double that of its predecessor ahead of the arrival of the its all-new electric family car, the ID.3, later this year.
The addition of larger 32.3 kWh lithium-ion battery pack has helped the model – launched as the brand's first fully-electric production car in 2014 – improve on its original 83-mile driving range.
However, Tim O'Donovan, Volkswagen UK's EV product marketing manager, has confirmed that UK retailers will be able to expect a "limited stock" of the new EV.
He said: "We are very pleased to have secured limited stock in the UK for this latest electric version of our popular city car. With a proven electric powertrain, impressive range, and excellent value-for-money the e-up! is a zero-emissions city car that can venture far beyond the city limits.
"Volkswagen is entering the era of the electric 'People's Car'. After finding great success with the e-up! and e-Golf we are excited to see the ID.3 arriving on our shores this summer, which will be our first ground-up new electric car based on the MEB platform."
A perceived push towards alternative fuel vehicles, and particularly EVs, in the UK has seen car retailers from various brands caught between encouraging the sale of new electrified product and placating keen car buyers frustrated by limited stocks and long lead times.
In May last year AM reported on Hyundai Motor UK's offer of a short-term lease giving access to an Ioniq hybrid hatchback in a bid to mitigate the effects on long lead times for its popular Kona EV.
In this month's magazine, meanwhile, MG Motor UK's head of sales and marketing, Daniel Gregorious, said that EVs would be a core source of growth for the brand which is unencumbered by limited supplies of its ZS EV SUV.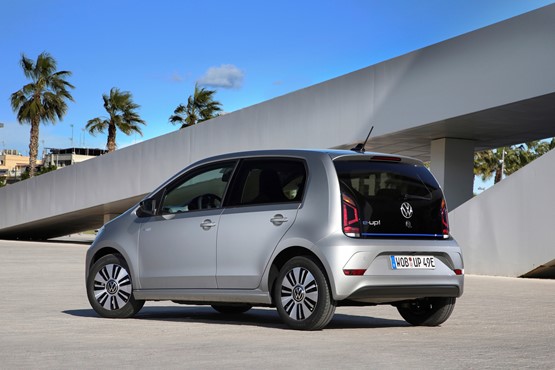 The new VW e-up! is likely to generate strong demand among consumers.
Alongside its all-important boost in driving range, changes to the model have also ushered in the latest safety technology from other VW vehicles, including a multifunction camera with Lane Assist, curtain airbags and smartphone integration cradle.
Also standard on the range-topping e-up! are cruise control, heated front seats and a heated windscreen, climate control, rain sensing wipers and electrically heated and adjustable door mirrors.
Furthermore, Volkswagen UK said that its e-up! will be identifiable by its 15-inch 'Tezzle' wheels, bespoke bumpers and C-shaped daytime running lights, with blue strips in the front grille and across the boot lid signifying the car's zero-emission status.
The e-up! also has the accolade of being the first electric car to bear the new Volkswagen logo, which was given its dealership debut at Agnew Group's Belfast franchise last week.