The Finance and Leasing Association's (FLA) has renewed its appeal for help from Government and the Bank of England after coronavirus' impact prompted 1.2 million finance forbearance claims.
The FLA raised it concerns for non-bank lenders again today (May 7) as monthly consumer car finance data showed that the UK market declined 27% by volume in March.
COVID-19 coronavirus disruption and the start of lockdown measures on March 24 impacted the key number plate change month for car dealers and manufacturers to leave the sector down 13% in Q1 2020 as a whole.
Car sales data reported by the Society of Motor Manufacturers and Traders (SMMT) showed a 44.4% decline in March, with that figure rising to 97.3% last month – suggesting far worse to come from the FLA data.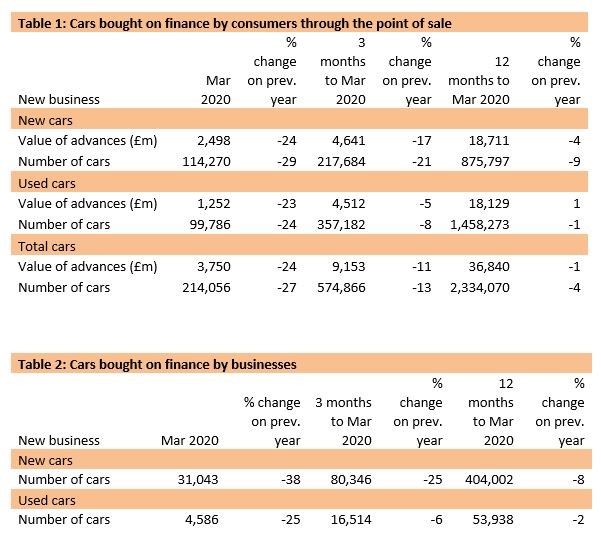 The consumer car finance market declined 27% by volume, to 214,056, and 24% by value, to £3.75 billion in April, according to the FLA.
Pressure on the finance sector is growing and Stephen Haddrill, director general at the FLA today renewed its call to the Government and the Bank of England to take urgent action to support the non-bank lending market.
FLA members provided just over £138 billion of new business last month, and
Haddrill said: "The asset, consumer and motor finance markets have been hit hard by the measures taken to deal with the coronavirus crisis, with a 20% fall in new business in March alone.
"FLA members have also faced almost 1.2 million COVID-19 related requests for forbearance, of which 75% have already been granted.
"The industry is committed to supporting their customers during these exceptional times.
"Urgent action is needed – in days, not weeks – to deliver financial support to the non-bank lending sector to ensure that we maintain a financial services sector that is diverse, innovative and competitive."
The percentage of private new car sales financed by FLA members reached a record-high of 95.6% in the twelve months to March 2020.
Commenting on today's consumer car finance data, Geraldine Kilkelly, head of research and chief economist at the FLA, said:
"The motor finance market has been hit hard by the lockdown in March as the main route to customers through dealerships closed. Our latest research suggests that the consumer car finance market is likely to see the value of new business fall by 29% in 2020 as a whole.
"The FLA urges the Government and Bank of England to open up financial support schemes to all lenders, including non-banks, so that they can meet the significant current demand for forbearance and provide new lending when the economy re-opens. This will also ensure that the motor finance market remains diverse, innovative and competitive after the crisis."
In an early shot across the bow of the car finance sector last month the FLA's head of motor finance, Adrian Dally, told AM that every effort should be made to keep motorists "in their cars" as coronavirus inhibits some consumers' ability to make repayments.
Dally said that, while there exist significant differences between car finance and mortgage repayments, efforts must be made to ensure that motorists do not lose their mobility due to short-term financial difficulties triggered by the COVID-19 coronavirus outbreak.