Toyota has retained top spot in the National Franchised Dealers Association's (NFDA) bi-annual car dealer EV Dealer Attitude Survey as new entrant Ford floundered in last place.
Despite not having a pure electric vehicle (EV) in its range, franchisees of the Japanese carmaker showed their appreciation for its full line-up of hybrids by scoring it at an average of 8.66-out-of-10 across all questions.
The result marked a decline of 0.54pts since the last survey, published back in November, and 0.71pts on May 2019, which could be attributed to retailers' ongoing wait for a pure EV.
New survey entrant Ford proved that the introduction of an EV might not be central to the recipe for alternative fuel vehicles (AFV) success, however, as it finished bottom of the survey's rankings – with an average score of just 2.71 – within months of the launch of its flagship Mustang Mach-E.
Ford joined the survey for the first time in May, alongside Honda, MG, Seat, Skoda and Vauxhall.
NFDA director, Sue Robinson, said: "Toyota retained the top position with an overall average score of 8.66 points out of 10.
"Kia had a sizeable improvement from the last survey and followed with a score of 8.44 points, up from 7.63.
"Toyota had the highest score in 7 out of 10 questions. Kia topped the two sections related to current and proposed EV offering, whilst Honda dealers were the most satisfied with their electric and plug-in vehicles volume target aspirations.
Robinson added: "At the other end of the table, Vauxhall, Renault and Ford had the lowest average ratings.
"The lowest average score of all questions was given when retailers were asked about their return on investment in equipment training for electric and plug-in vehicles.
"However, retailers showed an increase in satisfaction levels with their manufacturers' support through training and material enabling them to effectively sell EVs.
"A few manufacturers experienced significant improvements in this area, in particular Kia, Nissan, Mercedes and Peugeot."
Product line-up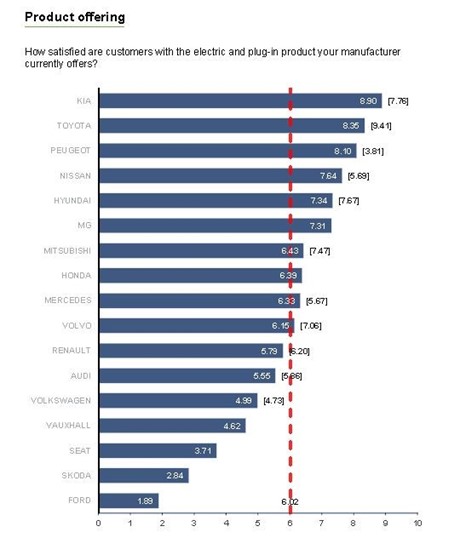 Kia, which launched an updated Niro line-up in 2020 – featuring the hybrid, plug-in hybrid and e-Niro full EV versions of its family crossover – along with a new Soul EV and plug-in versions of its XCeed crossover and Ceed Sportswagon, attracted a favourable response from retailers in relation to its current line-up.
The Korean brand finished top in terms of its current line-ups rating from customers, with a score of 8.9-out-of-10. Toyota was second with 8.35 and Peugeot third with 8.1.
Kia gained even more favour for its AFV product plans over the next two years, earning a top rating of 9.27, as Toyota scored 8.36 and Peugeot 8.16.
The expected pace of change in the Ford line-up appears to be slow, however, with a 1.89 rating for customers' current view of its AFV range followed-up by a bottom-rated 5.04 rating for car retailers' opinions of its electrified vehicle plans for the next two years.
AFV supply and volume targets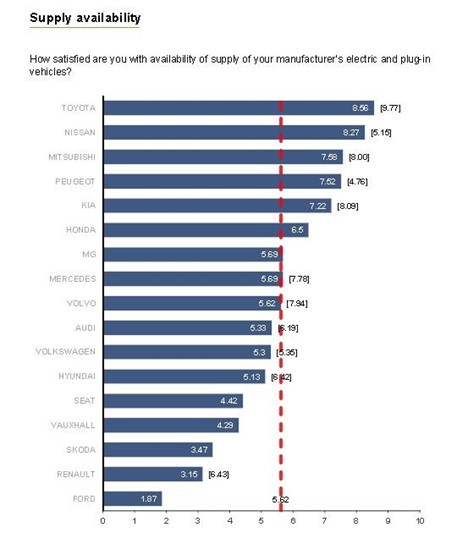 Carmakers are said to be battling to drive a greater flow of low-emissions electrified products into the market in 2020 as they fight to avoid sizeable fines for non-compliance with EU CO2 emissions laws for 2020/2021.
And it was Toyota (8.56), Nissan (8.27) and Mitsubishi (7.58) who topped the rankings for the provision of AFV supply in May 2020's NFDA EV Dealer Attitude Survey.
Ford again finished bottom, with a rating of 1.87, with Renault second-bottom (3.15), despite the recent launch of a new version of its Zoe EV hatchback.
The poor delivery from Renault - which finished bottom of the EV Dealer Attitude Survey in November - contributed to a bottom-placed ranking for its AFV volume targets, its score having slumped from 5.77 in the last survey to just 2.67 in the more challenging COVID-19-impacted new car market this time around.
Honda, meanwhile, must have reasonable aspirations for its newly-launched Honda e EV hatchback.
It topped the table in relation to volume aspirations, with a score of 8.78, followed by Toyota (8.58) and Kia (8.33).
Profitability
When asked how satisfied they were with their total margin on new electric and plug-in vehicles sales compared with petrol and diesel new car sales, retailers scored an average of 6 across all brands.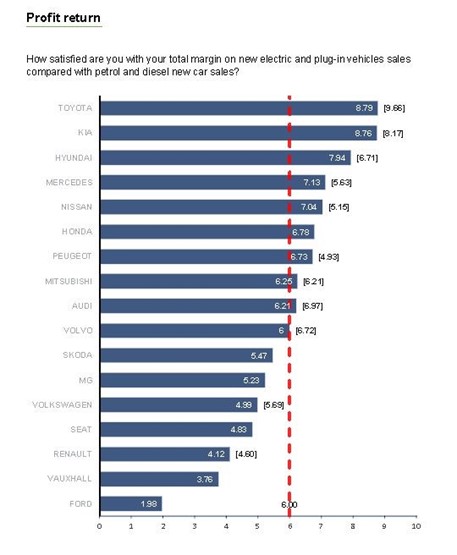 However, it was Toyota, Kia and Hyundai who skewed the ratings with high scores of 8.79, 8.76 and 7.94. In all seven of the 17 brands rated fell below the average, with Volvo attaining the average of 6.
The difference in the top rated and the rest was even more out of kilter when it came to used AFVs.
Dealers' average satisfaction rating for their total sales margin on used electric and plug-in vehicles sales averaged 5.59, with 10 falling behind that score as Toyota topped the rankings with a 9.05.
As disappointed as some retailers might be with the margin they achieve on AFVs, the NFDA said that franchises with an AFV product line-up expressed even greater discontent.
"In addition to the brands included in this report, there was a level of discontent expressed by various networks whose manufacturers do not currently have any electric vehicles," said Robinson.
Robinson described the OEMs featured in the report are "the market leaders in the electric vehicle sector", adding that the views of retailers from other brands who had chosen to contribute to its responses had been disregarded.
The NFDA's car dealer EV Dealer Attitude Survey is a bi-annual survey which was launched in May 2018 to analyse retailers' satisfaction levels with manufacturers' approach to the EV sector.
Retailers answer questions related to all aspects of their manufacturer partners franchise, including electrified car business, from current and future product range, supply availability, bonus and rebates, profit return, return on investment, finance, and incentives.
The next Electric Vehicle Dealer Attitude Survey will be sent to NFDA dealer members for completion in July 2020.