Carwow's new car sales for July 2020 were up 10.43% compared to the same period last year, painting an optimistic picture for dealers.
Total Carwow sales for the last 12 months report a 19.73% decrease as a result of the nationwide lockdown between March and June.
Sales figures for alternative fuel vehicles (AFVs) remain low in comparison to traditionally fuelled vehicles, however, they grew 52.6% year-on-year in July, with petrol plug-in hybrids seeing a 74% increase and diesel plug-in hybrids up by 55%.
James Hind, chief executive officer at Carwow, said: "It is still early days in terms of predicting if and how a market recovery will unfold, but our figures offer some respite for dealers adapting to the new world. This is particularly encouraging as the countdown to the September plate-change begins in earnest.
"Greater numbers of consumers are now choosing to buy online, confident in navigating the digital journey to find their next purchase and secure the deal.
"This is great news for dealers and buyers alike. Dealers benefit from genuine leads from people intent on buying, not simply window shopping. Consumers benefit from choosing a dealer who offers a product and price that meet their criteria, whilst delivering a service that has their very best interests at heart, crucial at this precarious time."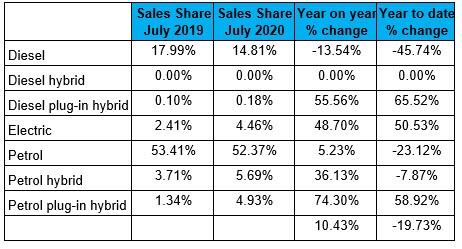 July saw an 11.3% rise in new car registrations, reported the Society of Motor Manufacturers and Traders (SMMT).
Auto Trader, meanwhile, reported a 25% rise in demand for used vehicles last month as prices rose to record levels.
174,887 vehicles were delivered to customers last month, but new car registrations remain 41.9% down year-to-date, at 598,054 units.
The Society of Motor Manufacturers and Traders (SMMT) expects the market to end the year 30% down on 2019 following the impact of Coronavirus – representing more than £20 billion of lost sales
SMMT chief executive, Mike Hawes, urged caution in celebrating the result, however, stating that a far clearer picture of the UK's new car market should emerge "by the end of September".
July's rallying effort came in the first full month in which of the UK's franchised car showrooms were allowed to open for business again, with only England's retailers having been able to take advantage of a full month of June sales.
According to SMMT data, private demand drove the market with a 20.4% increase in registrations, primarily as a result of consumers being able to renew their cars after lockdown had forced them to delay.
Appetite for AFVs remained stable during the month, with plug-in hybrids (PHEV) and full electric vehicles (EVs) taking a 9% share of registrations for July, compared with 9.5% last month and up from 3.1% for 2019 overall.
The Volvo XC40 was the best-selling car on Carwow, with the best-selling car year-to-date being the Mercedez-Benz A Class.
The VW Tiguan, VW Polo, Mercedes-Benz GLC and Skoda Kodiaq are also firm favourites in the year-to-date Carwow Best Sellers league table.
Here is Carwow's list of best sellers during the month: