Volkswagen's ID.3 electric vehicle (EV) ended 2020 as Europe's second best-selling car as COVID-19 triggered a 25% full-year market decline - its worst result since 1993.
The ID.3 hatchback was outsold by only the VW Golf hatchback in December as Tesla's Model 3 EV finished third in the region's best-sellers ranking last month, leading Jato Dynamics analyst Felipe Munoz to suggest that registrations results were starting to serve as proof that "Europe is getting ready for an EV revolution".
Despite the optimism surrounding increased alternative fuel vehicle (AFV) penetration, however, the volume of new car registrations across Europe during December fell by 3.8% year-on-year to 1,212,858 units, according to Jato's data from 27 markets.
The result left the overall registrations figure for the whole of a year heavily impacted by the COVID-19 coronavirus pandemic down by 25% at 11,941,633 units.
While a lesser decline that the UK's 29.4% slump in 2020, it was Europe's worst new car registrations result since 1993, when 11.82 million vehicles entered the market.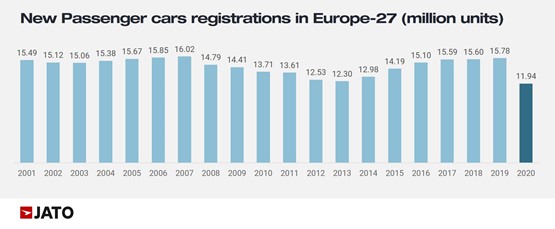 Munoz said: "While the industry was already showing signs of decline in the last months of 2019, the COVID-19 pandemic has accelerated these existing trends – moving the market into an unprecedented environment, with consumers in lockdown unable to purchase vehicles."
Jato reported that December's decline in registrations had been driven by double-digit decreases for SUVs in Italy, France and the UK.
Last month, the market share of SUVs decreased when compared with results from December 2019 - the percentage dropping from 41.7% to 40.2% - as registrations totalled 487,560 units, marking a decrease of 7.2%, following an 11% drop across compact SUVs (the largest subsegment).
Munoz said that several months of continuous growth among SUV sales was always likely to "level out".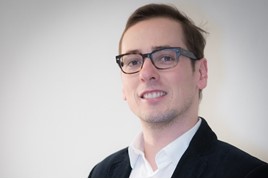 He added: "Secondly, the new electrification push from governments across Europe has drawn market interest away from SUVs – particularly as there are still very few pure electric SUVs available to buy."
Demand for petrol and diesel-powered cars, including hybrids and mild-hybrids, fell by 23% during December, Jato reported.
This came in contrast to a 271% increase in pure electric vehicles (EV) and plug-in hybrids (PHEV).
Across Europe, AFVs registering a 24.1% market share last month, compared to the 24.7% share seen for diesel cars. In December 2019 AFVs accounted for just 6.3% of total registrations.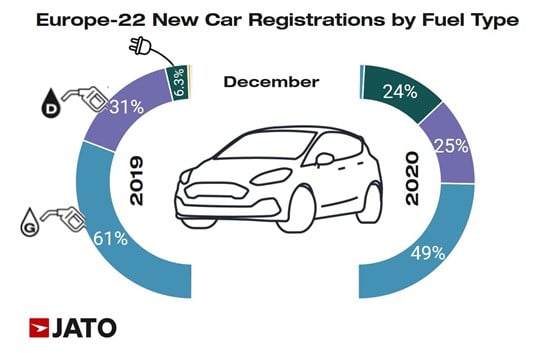 Volkswagen's ID.3 was the standout EV success of December, with almost 28,000 registrations.
The electric hatchback led the overall rankings in the Netherlands, Sweden and Austria as well as being Germany's third best-selling car, the UK's 4th best-seller, and the 2nd best-seller in Denmark, Norway and Luxembourg.
This electric hatchback was followed by the electric Tesla Model 3 in the overall rankings for December.
AM recently reported on a report that showed Tesla's move from niche luxury vehicle maker to a mass-market manufacturer had seen the number of its US-built electric vehicles (EV) on UK roads treble within a year.
Munoz said: "Europe is getting ready for an EV revolution and last month's results are a clear indicator that when these cars have the right price attached to them, they can lure consumer demand away from popular gasoline and diesel models."
The new, all-electric Fiat 500 was among a range of other elelctrified vehicles to benefit from growing EV registrations towards the end of last year.
Jato highted the results of the Peugeot 2008, the Hyundai Kona, the Opel/Vauxhall Corsa and the Renault Zoe.
Further down the rankings, other models that performed well include: Seat Leon (+66%), Volvo XC40 (+67%), Skoda Kamiq (+58%), Volkswagen Up (+58%), Kia Niro (+99%), Nissan Juke (+90%), Nissan Leaf (+94%).
Among the latest launches the Ford Puma registered 12,874 units, Volkswagen registered 4,714 units of the ID.4, Mercedes registered 4,013 units of the GLB; Mazda registered 3,327 units of the MX-30, Polestar registered 3,117 units for its model 2; Citroen registered 2,314 units of the C4, Audi registered 1,962 units of the E-Tron Sportback, and Porsche registered 1,912 units of the Taycan.
Jato Dynamics' top ten best selling cars in Europe, December 2020: