Peugeot's 208 hatchback and 2008 compact SUV finished first and second in the rankings of Europe's best-selling cars during February, Jato Dynamics' data has revealed.
The French carmaker has not topped the rankings since its success with its 207 back in 2008, but hit a memorable double as the continent's registrations dipped 20% year-on-year due to the ingoing impact of the COVID-19 coronavirus last month.
Data from 27 markets showed that a total of 848,455 units were registered, leaving the sector down by 23% year-to-date.
Jato's global analyst, Felipe Munoz, said: "As long as travel restrictions remain in place and consumers stay indoors, the industry will continue to see negative results."
But Jato said it fully expected the year-on-year picture to change in March, when the data begins to reflect the initial impact of COVID-19 closures a year ago which resulted in the month's worst trading result for 38 years.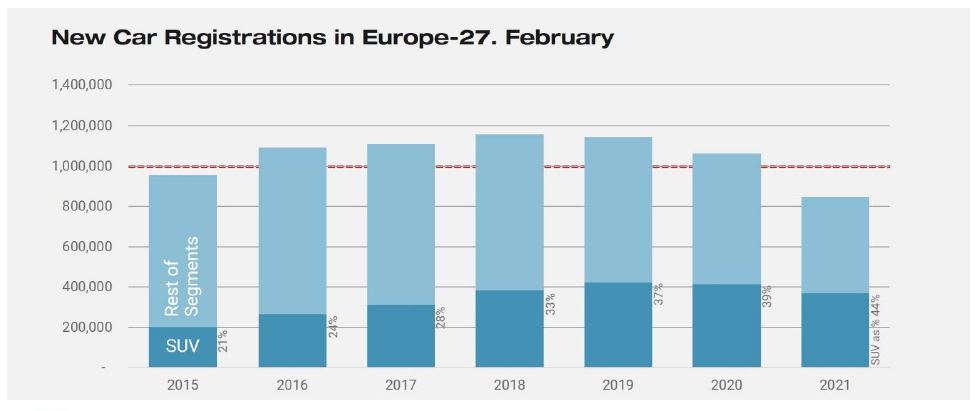 Brand values
Peugeot will looking to build on recent momentum in March after outlining its market ambitions with a shift upmarket and a new corporate identity (CI) for its car retailers.
Its 208 replaced the Toyota Yaris at the top of the model rankings as the 2008 increased its sales volume by 51% to finish ahead of b-segment SUV rivals the Volkswagen T-Roc and Renault Captur.
Among other notable model performances, Jato noted that Ford's Puma SUV had continued to post significant increases becoming Ford's top-selling model.
Other sales increases were delivered by: Volvo XC40 (+33%), Ford Kuga (+220%), Tesla Model (+55%), Mercedes GLB (+181%), Mercedes GLA/EQA (+49%), and Smart's Fortwo (+114%).
Among the latest launches, Volkswagen registered 3,744 units of the ID.3, Citroen registered 2,805 units of the C4, and Cupra registered 2,582 units of the Formentor, Jato reported.
Fuelling EV growth
Jato's data highlighted the ongoing decline of diesel new car sales, with registrations (including mild-hybrids) having fallen by 33% to almost 225,000 units, accounting for 27% of total new car registrations.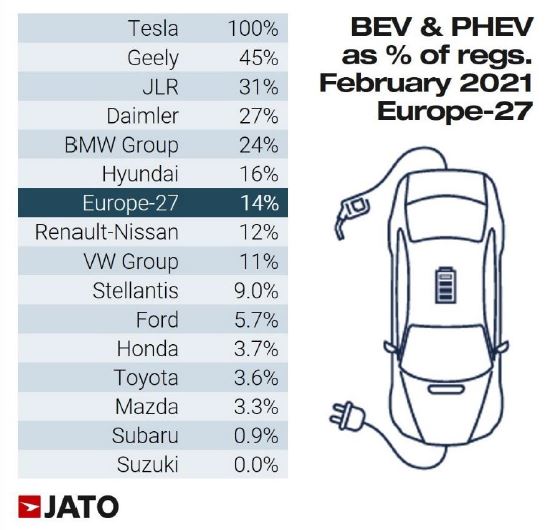 Pure electric and plug-in hybrid cars continued to gain traction in February, however, posting growth of 67% to total 115,000 registrations and a market share rise from 6.5% in February 2020 to 13.6% last month.
In Norway, they accounted for a significant 79% of total market.
Following Jaguar Land Rover's (JLR) recent 'Reimagine' strategy announcement regarding its electrification ambitions, Jato reported that a third of Land Rovers registered in February was electrified in some way, compared to just 7% in February 2020.
Year-on-year, the share of alternative fuel vehicles (AFV) also increased by more than 15ppts for MG, Volvo, Mercedes and Jeep.
Despite the shift towards low and zero emission vehicles, SUVs continued to fare well in comparison to traditional segments during February.
Jato reported that SUVs had posted a volume decrease of just 11% last month as MPVs fared worst, dipping 58%, falling to just 17,800 units.