Car manufacturers have told the Society of Motor Manufacturers and Traders (SMMT) that their COVID-19 recovery will take "at least six months" in the UK.
The news came as carmakers reported a 46.6% year-on-year growth in vehicle production in March but battled with the challenges posed by ongoing Brexit-related import and export constraints and factory shutdowns prompted by the global shortage of semiconductor microchips.
March's output of 115,498 new cars was down 22.8% on five-year average for the month, leaving Q1 down 4% year-on-year, the SMMT said.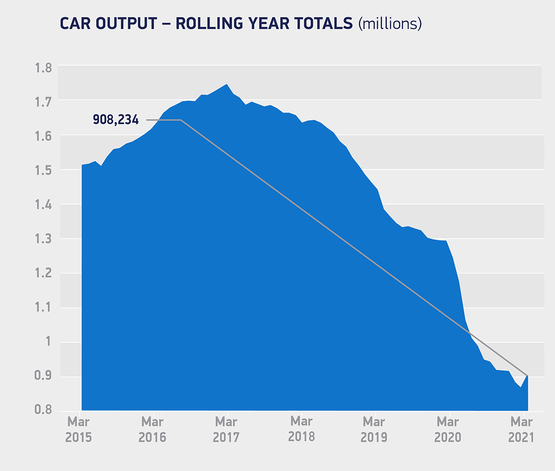 Growth for the month results from the impact of lockdown measures and factory closures at the end of the month in 2020, which resulted in just 78,767 rolling off production lines.
And a new SMMT member survey revealed that, a year on, the road ahead for UK car manufacturing remains uncertain.
Nine-out-of-10 companies stating that they were expending additional resource managing UK/EU trade requirements and six-in-10 large firms expecting their COVID recovery to take at least six months.
SMMT chief executive, Mike Hawes, said: "The first rise for UK car production since summer 2019 is a major step in the right direction but belies the underlying situation.
"With factories shut for much of March 2020, output was always going to be up but it remains below average, with some £11bn worth of production lost over the past year.
"Whilst the COVID situation is improving in the UK and in some major export markets, manufacturers are still struggling to manage residual issues, most notably the global semiconductor shortage."
Last week Jaguar Land Rover (JLR) announced the temporary closure of its manufacturing facilities at Halewood and Castle Bromwich as a result of the impact of the semiconductor shortage.
Its fortnight-long closure follows similar moves from brands across the globe.
Today (April 29) reports revealed that BMW's Mini plant in Oxford is also set to close for a week.
The closures are sure to impact the recovery of the UK's car manufacturing sector.
Revealing detail of the sector's March output, the SMMT's data showed that March's output for the UK domestic market rose 19.4% to 20,269 units with exports also increasing, up 54.1% to 95,229 units.
More than eight-in-10 (82.5%) cars were sent overseas in March, with shipments to major destinations rising dramatically compared with 2020 when many markets were already shut before the UK itself entered lockdown, it said.
Exports to the EU, US and Asia were all up in March, by 33.5%, 36.4% and 54.1% respectively.

Meanwhile, combined output of electric vehicles (EV), plug-in hybrid (PHEV) and hybrid vehicles (HEV) amounted to a 21.5% share of all cars produced, up from 13.7% a year before, meaning one-in-five-cars produced in the UK is now alternatively fuelled.
Hawes said: "The shift towards electrified vehicle production is fundamental to the future of this vital sector.
"Securing investment for this transformation will depend on the global competitiveness of our industry.
"Companies are already having to absorb additional costs arising from our new trading arrangements with the EU, but must also invest in new technologies, new processes and upskilling the workforce.
"A competitive business environment that helps reduce operating costs and policies that support manufacturing will be essential if the transition to zero is to be Made in the UK."