The UK's weekend fuel frenzy sparked a 61% rise in car buying interest in electric vehicles (EV) on Auto Trader and a 59% spike on carwow.
The automotive marketing portals saw the impact of the 'fuel crisis' – which many have blamed on media reports and scaremongering on social media – as petrol forecourts became crowded in a rush for petrol and diesel, with many left empty for the Monday morning commute.
And the resulting performance of EVs on Auto Trader and carwow could suggest that car buyers are redying to set aside range anxiety concerns in favour of an ability to top-up their vehicle at home.
Compared to the previous week, carwow said that EV searches increased 28% on Friday, 43% on Saturday and went as high as 56% by Sunday as motorists realised alternative fuel vehicles (AFV) would allow them to charge at home.
Vistis to carwow's EV advice hub surged 94% in the space of a week, meanwhile.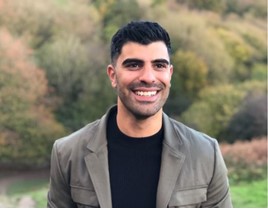 Sepi Arani, carwow's director of trade, said: "The fuel supply crisis and the scenes of panic at the pumps could prove to be the most influential switching event ever, with more people than ever considering switching to electric.
"The levels of demand for EVs through carwow this weekend has been completely unprecedented and are genuine proof that more people want to make the switch.
"After a weekend of queuing, frustration and hysteria, having the option to charge your vehicle from the comfort of your own home, or from a public charging point, seems like bliss for more and more people."
Auto Trader's online car search data also demonstrated that the convenience of charging an EV at home appeared to overtake widely-reported concerns about charging infrastructure and range anxiety over the weekend.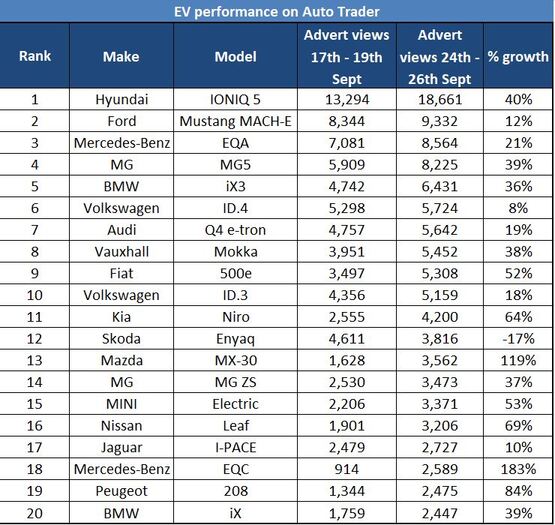 Advert views for new and used EVs were up 28% and 61% respectively weekend when compared to the previous weekend, with the latest cars attracting most attention.
Hyundai's recently-launched Ioniq 5 - featured in the latest edition of AM magazine - topped Auto Trader's ranking of its online car searches, followed by the AM Awards 2021's EV of the Year, the Ford Mustang Mach-E and the Mercedes-Benz EQA.
Carwow, meanwhile, issued a list of EVs that were available purchase within the shortest amount of time, despite the current supply restrictions. They were:
Tesla Model 3
Jaguar I-Pace
Vauxhall Corsa-e and Mokka-e
BMW i3
VW e-up
Volvo XC40
EV searches accounted for one-in-four (circa 24%) car searches on Auto Trader at the weekend – up from 16% in August – but supply remains scarce. EVs' share of used adverts increased from 1.7% to 3.1%.
Traffic to Auto Trader's dedicated Electric Hub, which showcases the latest new and used electric offers and consumer information, has nearly quadrupled since Thursday, meanwhile.
Auto Trader commercial director, Ian Plummer, said: "We are all familiar with the idea of range anxiety, but the events of the past few days mean we are entering the age of fuel anxiety."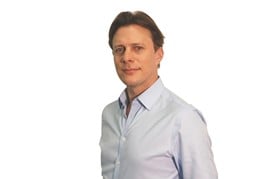 Plummer said that an EV enquiry had been sent to a retailer from Auto Trader's platform every two minutes over the weekend, adding: "This suggests that people aren't simply flirting with the idea of electric but have been encouraged to actively pursue a purchase. Accordingly, we expect retailers with electric stock to do particularly well this week."
Plummer speculated that the weekend's fuelling drama would not have a striking effect on the Government's Road to Zero aspirations, however, as EVs remain "prohibitively expensive for the majority of people".
But he added: "Concern about petrol availability won't end when the pumps start up again, and so this increased interest represents a unique opportunity to inform, to excite and to incentivise car owners to make the switch. If the Government is serious about reaching its 2030 targets, then it is one it can ill afford to miss."
Arani suggested that motorists interested in EVs were in the best place to switch right now. He said: "With second-hand car prices rocketing, there's really never been a better time to sell your car and make the switch to electric – you'll get a great price for your current vehicle, you'll be more than ready for the NetZero changes that are inevitably coming, and you'll never have to worry about a fuel shortage again."