Blue Mondays should not be a feature of the car retail sector according to BuyaCar data which suggests the start of the week is the peak period for customer enquiries.
Analysis from the online used car supermarket showed that a reliably 'hot' window of activity among visitors choosing a car, placing a deposit and applying for finance existed at around 8pm to 9pm every Monday.
And it found that its busiest times for visitors converting from window shopping to active buying were overwhelmingly Monday and Tuesday evenings, with almost 43% of transactions completed on those two days.
BuyaCar.co.uk editor, Christofer Lloyd, said: "Our data suggest that many consumers are typically adopting a hybrid approach to buying cars, with those who seek the comfort of seeing their preferred cars in the flesh before buying becoming ready to commit to a deal at the beginning of the week.
"It's also interesting to see that buyers are tending to make their transactions outside working hours. This suggests that they aren't fitting in car buying around work, but specifically dedicating time to placing an order.
"These figures are also useful for dealers who might wonder when an enquiry is best converted into a sale.
"If the energy to buy is concentrated at the beginning of the week, that may be the most reliable moment to win a wavering customer around."
Speaking in an interview for the December edition of AM, which will arrive with subscribers this week, Luscombe Motors managing director, Robin Luscombe, highlighted the challenges posed by an always on retail sector where evenings had become prime time for customer enquiries.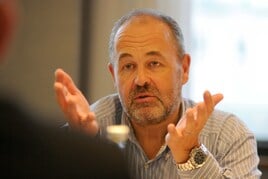 Commenting on the need for digital-savvy sales staff, he said: "The switched-on sales staff, the greedy ones if you like, will be sat responding to customer enquiries while they are sat watching Coronation Street on a night.
"I do it myself. Most of us are on Facebook or Twitter when we're sat at home, so it's not a huge leap to quickly email a customer back.
"The reality is that those walking into the dealership on a Monday morning and asking where all the email enquiries are from over the weekend will find that there aren't any because they've all been dealt with."
BuyaCar said that its figures suggested that, despite the disruptions to normal activities and many people working mainly from home over the past 20 months, car buyers continue to focus their research at weekends before making a decision at the start of the working week.
It added: "While Saturdays remain the busiest days at physical dealerships, it also suggests that online buyers seek the best of both worlds by combining the reassurance of seeing and touching the cars they are interested in before opting for the convenience of buying from the comfort of their home at the start of the week, with delivery to their chosen address."