The UK's car manufacturing output slumped 41.4% year-on-year in October as an "extremely worrying" continuation of the semiconductor shortages continued to play out.
Production facilities built a total of 64,779 vehicle last month, according to data published by the Society of Motor Manufacturers and Traders (SMMT), as output for the domestic and overseas markets declined by 37.9% and 42.1%, respectively.
The result marks a fourth straight month of declining production volumes and was the weakest October performance since 1956.
Year-to-date output is now down 2.9% on a COVID-impacted 2020, to 721,505 units.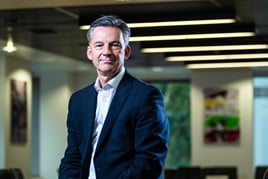 SMMT chief executive, Mike Hawes, said: "These figures are extremely worrying and show how badly the global semiconductor shortage is hitting UK car manufacturers and their suppliers.
"Britain's automotive sector is resilient but with COVID resurgent across some of our largest markets and global supply chains stretched and even breaking, the immediate challenges in keeping the industry operational are immense.
"Government can help the industry with measures to boost competitiveness in line with global rivals, notably in tackling high energy costs, supporting employment and training, and helping businesses whose cashflow is under pressure from these historically poor production numbers."
SMMT data showed the efforts that OEMs are making to prioritise the production of electric vehicles (EV) as volumes falter.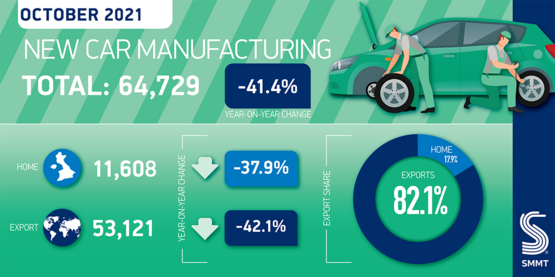 EV, plug-in hybrid (PHEV) and hybrid vehicles made up 30.9% of all cars made in October, with EV manufacturing rising 17.5% to 8,454 units.
So far this year, UK car makers have produced more than 50,000 zero emission vehicles, exceeding the total built in the whole of the pre-pandemic 2019, the SMMT said.
Eight-in-ten of all cars produced in the UK last month were shipped abroad.
Most of these (60%) went to the EU.
The SMMT said that this emphasised the importance of the UKs tariff-free trade deal with the EU.
Overall, shipments to the EU fell by 29.2%, whilst those to Japan were down 57.1% and the US 67%.
Responding to the UK's declining new car production data, Jim Holder, editorial director, What Car?, said: "The worst October since 1956 for vehicle production shows the scale of the issue for manufacturers.
"With the microchip shortage seriously undermining vehicle production, some manufacturers have resorted to drastic measures of meeting customer demand, including importing incomplete vehicles and sourcing electrical components from third party suppliers.
"Estimates suggest the microchip shortage will continue well into 2022, and the industry cannot sustain similar performances like today's in the long run.
"Support will be needed, from helping invest in new plants for electric vehicles, to improving business rates and energy prices, as well as reducing trade costs against competitors elsewhere. As the UK transitions towards electric vehicles, this support is more crucial than ever."