As certain used cars were hit by "significant price decreases" in November Cox Automotive has asserted that prices will never dip back to pre-pandemic levels.
Insight and strategy director, Phillip Nothard, echoed the sentiments of Cap HPI head of valuations, Derren Martin, in suggesting that the sector had established a "new benchmark" after eight consecutive months of appreciation which have left values up by around 30% year-on-year.
Commenting in his monthly Market Tracker report, Nothard said there is no tsunami of used stock on the horizon following the loss of around 1.4 million registrations from the market, adding that the period of reduced retail activity "will, without a doubt, have a bearing on the sector for years to come".
Nothard said: "Back in July, we asserted that the used car market has never been more critical to the overall health of the automotive industry than it has been in 2021. The last few months have given more weight to this suggestion.
"While prices have now increased for eight consecutive months, recent signs point towards a potential softening in the market. And while it remains the case that prices overall have continued to rise, the situation is becoming increasingly complex, with some models starting to see significant price decreases.
"Moreover, some figures we've observed are misleading, as it doesn't represent live market data where many models that saw an increase at the start of the month, which dropped off by the end.
"It's important to remember in the final month of the year that this is traditionally a slow period as retail activity slows ahead of Christmas. Prices are expected to drop in line with usual market cycles, so current prices still reflect a high demand with a low supply market. With prices as they are, dealers are becoming increasingly cautious, but as the year draws to a close, they will require stock for the new year, so prices are unlikely to drop significantly.
"We expect current market conditions to continue throughout Q1 2022, and it's entirely possible that we are seeing a revised benchmark for the used vehicle parc."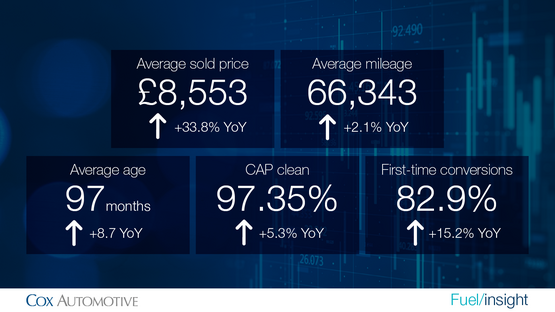 Manheim's wholesale key indicators for November experienced a slight easing month-on-month in the sector, with marginal falls observed and average first-time conversion decreased by 6.01% to 82.90% month-on-month.
CAP Clean also experienced a marginal month-on-month fall of 2.32%, to 97.35% as the average age of cars sold decreased by 5.64% to 97 months, and the average mileage of cars sold, decreased 4.31%, down by 2,987 miles to 66,343 miles.
Despite this, used car values continued to rise at the auctions, Manheim reported.
The average sale price rose 16.8% or £1,129, to £8,553.
AM reported last week on BCA's suggested that stabilising of values in the used van market in recent months may highlight "what's to come" for the used car sector.
Cox Automotive has adjusted its used car sector volume forecasts for the remainder of 2021 and Q1 of 2022, giving best, mid, and worst-case scenarios.
Its worst-case scenario now looks most likely, it suggested, with 2021 looking likely to end on 1.552 million transactions after a 245,204 Q4.
The result would be 4.8% down on 2020 and 32.8% down compared to 2019.
Nothard added: "In our Q1 2022 forecast, we predict the quarter will end on 431,787 transactions, a 1.5% increase year-on-year, but 35% down compared to the 2000 to 2019 average."