Car dealers "smashed" historical automotive retail trends to record a net £50,000 profit in November, according to the latest sector KPIs published by ASE.
Former ASE chairman, Mike Jones, said that he expected that the average UK car retailer would deliver record annual profitability for 2021 as a whole after the strong performance in what is "historically a difficult month".
"Retailers smashed that historical trend", he said.
According to ASE's sector KPIs, car retailers' return on sales (RoS) percentage continued its climb in November, coming in just under 2.6%.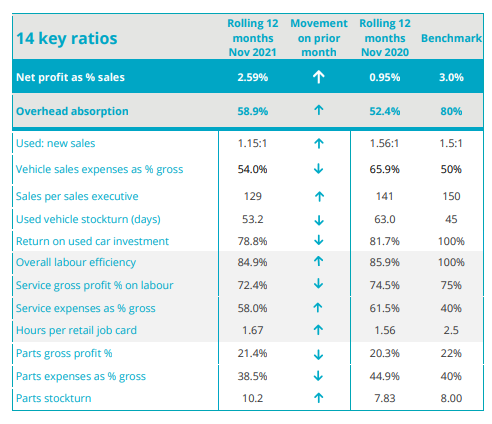 The data highlights the strength of the car retail recovery in 2021, despite new car supply shortages and continued disruption caused by COVID-19 and resulting staff absences.
ASE's profitability KPIs indicated that the average UK car retailer an average return on sales (RoS) of 0.94% during a heavily COVID-19 impacted 2020, a performance that Jones hailed as "a very strong performance" at the time.
His latest, November 2021, data set showed that a decline was seen in overall labour efficiency and the labour gross profit percentage during November as the work mix returned to historical levels, furlough fell away and labour price inflation hit, Jones noted.
"Retailers will need to increase charge-out rates to compensate", he said.
Jones added: "Looking at the comparative performance the improvements in overhead absorption and vehicle sales expenses as a percentage of gross profit have been the key drivers behind the overall profit improvement. Keeping these gains will be vital for 2022."
In its monthly Market Tracker report, published yesterday (January 12) Cox Automotive said that retailers would have to adapt to a 'new normal,' focusing on margin retention and profit "while demand is high and supply remains low" in the used car sector.
Its comments came after Auto Trader reported a 21st consecutive month of used car price rises in December.
In an interview with AM this week Pendragon chief executive Bill Berman said that margins would remain strong, but stock scarce for the foreseeable future, suggesting that supplies could take up to eight years to recover after component shortages and COVID-19 factory closures.