The car retail sector should be braced for a prolonged period of uncertainty as OEMs impacted by Russia's war in Ukraine battle to deliver vehicle supplies and consumers "grapple with a cost-of-living crisis".
That is the view of Cox Automotive and Grant Thornton in their latest Autofocus report on the direction of the sector on the same day that eBay Motors indicated that shifting economic forces were triggering an "inevitable" correction of used car values in the UK.
Grant Thornton head of downstream automotive, Owen Edwards, said any hopes that that normal new vehicle production levels could return by the end of 2022/early 2023, but this now appears unlikely.
"The conflict in Ukraine will influence raw material prices, which will continue to rise, and some of these costs will be pushed on to the consumer," he said.
"This comes at a time when the West is grappling with a cost-of-living crisis, as general increases in the price of oil, gas, electricity, food, and inflation are also expected to continue."
GfK's monthly consumer confident index indicated that the public mood was at its lowest ebb since the arrival of the COVID-19 coronavirus pandemic last month – dipping to -38.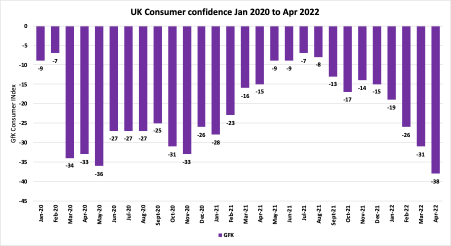 Edwards suggested this trend would continue, with disposable income expected to come under pressure.
The Bank of England is forecasting that inflation will rise to 8% in 2022. Further increases in inflation could provide a catalyst for future interest rate rises.
Back in March AM spelled out the far-reaching effects of Russia's invasion on the Ukraine with the help of sector experts.
Later analysis of the Society of Motor Manufacturers and Traders (SMMT) new car registrations data for Q1 highlighted how Russia 'threw a hammer and sickle into the works' of 2022's car manufacturing recovery with its war.
Russia and Ukraine operate 34 and seven automotive assembly and production plants respectively, while 50% of the world's output of neon and 40% of the world's krypton, which are needed to manufacture semiconductor chips, come from Ukraine.
Edwards also explained that Russia is the primary supplier of palladium and the world's second-largest producer of cobalt – used for catalytic converters and electric vehicle (EV) batteries, respectively – while also playing a large part in aluminium supply.
Meanwhile, Ukraine produces a large number of wiring harnesses.
Philip Nothard, Cox Automotive's insight and strategy director, said: "The war in Ukraine will bring further disruption in the supply chain and shortages of new vehicles.
"In addition, the much-debated shortage of semiconductors will continue longer than expected. As a result, the industry should prepare for further impact as the used car market supply becomes even more constrained."
Despite today's reports of ongoing used car value declines, Edwards suggested that prices would remain above pre-COVID levels, but added: "Whether they remain at the high levels seen at the end of 2021 will depend on whether demand weakens."