The Society of Motor Manufacturers and Traders (SMMT) chief executive Mike Hawes has said there is "optimism" about the UK's car manufacturing sector after output grew 5.6% year-on-year in June.
Vehicle production volumes rose for a second consecutive month to reach 72,946 units last month to leave the sector 19.2% down year-to-date and 33.2% below 2019 levels, with production topping 403,131 units in turbulent first half year.
The SMMT's car production forecast for 2022 now stands at 866,000 units, representing 1% growth on 2021 but 113,285 units below its March outlook.
But as the SMMT once again highlighted the impact of COVID-19, component supply issues, Russia's invasion of Ukraine and Honda's 2021 closure of its Swindon plant Hawes suggested there were grounds for optimism.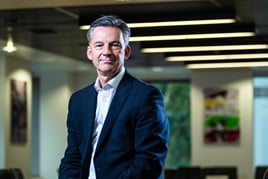 "Car manufacturers have been suffering from a 'long COVID' for much of 2022, as global component shortages undermine production and put supply chains under extreme pressure," he said this morning (July 28).
"Key model changeovers and the closure of a major plant last year have also impacted output, but there are grounds for optimism with rising output over the last two months.
"As these issues recede over the next year or two, investment in new technologies and processes will be essential but this will depend on our underlying competitiveness.
"Sky-high energy costs, non-competitive business rates and skills shortages must all be addressed if we are to build on our inherent strengths and seize the opportunities presented by the dash for decarbonised mobility."
Fixed trend, rising costs
What Car? editorial director Jim Holder was less positive, however.
"With the ongoing semiconductor shortage, energy crisis and the war in Ukraine, it's unlikely that will change for some time," he said.
"That leaves the UK's car manufacturers walking a tightrope: the cost-of-living crisis is restricting their potential at exactly the time they are meant to be undergoing a once-in-a-century transition towards electric vehicle and carbon-neutral manufacturing."
KPMG's UK Automotive Partner Chris Knight also highlighted that OEMs face a battle to balance soaring costs and a transition to electric vehicles (EV) with the threat of failing consumer demand.
Knight said: "The cost of car manufacturing has increased due to price rises of raw materials, components, transport and energy. Manufacturers have limited ability to absorb additional cost and will pass this onto consumers in the form of higher prices.
"Consumers are willing to pay a premium for now, as demand for new cars still far outpaces supply, however this willingness may decline if consumer confidence erodes."
Ongoing EV investment
Today's SMMT car production data showed that electric vehicle production had increased 6.5% YTD, to 32,282, as £3.4bn investment committed to UK's zero emissions future in H1.
The UK's output of hybrid, petrol and diesel cars declined by 19.9%, 8.0% and 60.2% respectively.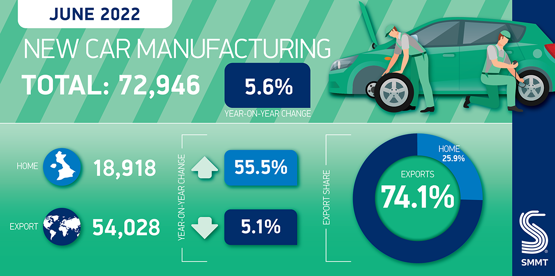 Declining export volumes underpinned the UK car manufacturing sector's productivity decline, with 23.9% (99,388) fewer cars produced for overseas markets during the first half of 2022.
Exports still account for 78.6% of all production output, however.
Significant investment continues to be made in the UK's automotive manufacturing sector, according to the SMMT.
More than £3.4bn in new investments has been announced so far in 2022, primarily for EV production and supply chains.