The UK automotive sector remains on course to deliver its lowest new car registrations total since 1982, despite a 26.4% growth in October, the Society of Motor Manufacturers and Traders (SMMT) has said.
Hybrid and battery electric vehicles (EV) drove the year-on-year uplift to 134,344 units, accelerating volumes on a poor October 2021 when deliveries fell by 24.6% year-on-year, with battery electric vehicles (BEV) increasing 23.4% to 19,933 and plug-in hybrids (PHEVs) by 6.2% to 8,899.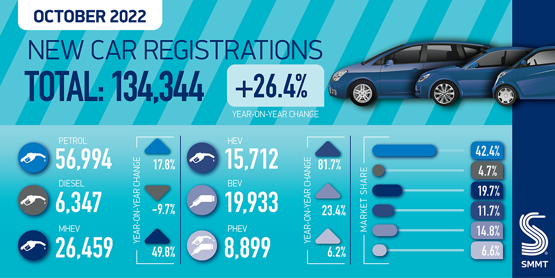 In total, plug-in vehicles accounted for 21.5% of registrations last month but October was the first month to see BEV market share fall since May 2021 as hybrid sales rose by 81.7%.
The market remains down 5.6% year-to-date on the same period in 2021 and a third below pre-COVID levels.
And chief executive Mike Hawes urged Government to take action to boost car sales and ease the financial burden on motorists after the Bank of England implemented a record 0.75% rise in interest rates yesterday.
"Next year's outlook shows recovery is possible and EV growth looks set to continue but, to achieve our shared net zero goals, that growth must accelerate and consumers given every reason to invest," said Hawes.
"This means giving them the economic stability and confidence to make the switch, safe in the knowledge they will be able to charge – and charge affordably – when needed. The models are there, with more still to come; so must the public charge points.
"With stretched infrastructure and the cost-of-living crisis both having the potential to undermine future uptake, government's Autumn Statement, set for 17 November, provides an opportunity to stimulate demand and deliver both economic growth and net zero progress.
"Now is not the time to raise motorists' costs, which would likely stoke inflation and damage broader government revenues from new car sales."
What Car? editorial director Jim Holder echoed Hawes' sentiments, calling on further action to stimulate the market. He said: "The new car market remains below pre-pandemic levels, and the latest interest rate hikes will eventually lead to costlier finance plans for new car buyers.
"The economic climate is moving away from the direction the industry needs it to, and this is becoming increasingly problematic for manufacturers that are having to invest in new electric vehicle plants and grow their electric vehicle line-up to meet Government-imposed targets.
"Though electric vehicle sales continue to grow, rising energy prices and cost of living is making it harder for some to make the switch."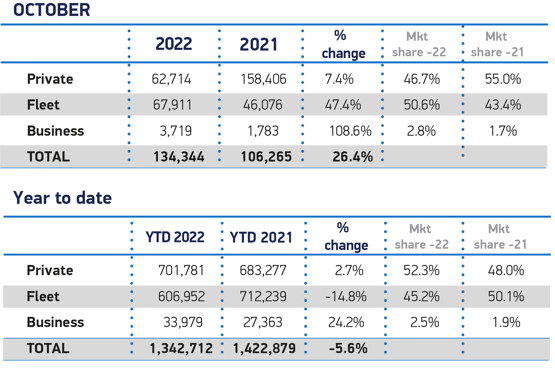 October's growth was driven primarily by large fleet registrations, SMMT data revealed, which grew 47.4% to 67,911 units.
Registrations to private customers rose 7.4% to 62,714, while smaller businesses recorded a 108% increase to 3,719 units.
Ongoing supply chain shortages, surging inflation and a growing cost of living crisis have led to a -2.2% downward revision of the SMMT's market outlook for the year, with 1.566 million registrations now anticipated – putting 2022 on course to be the market's toughest year since 1982.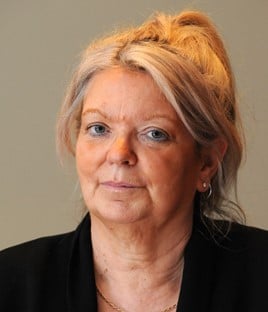 National Franchised Dealers Association (NFDA) chief executive Sue Robinson said: "The increase in new vehicle sales in October demonstrates the resilience of franchised dealers and their ability to find the right deal for their customers and the importance of supply finally reaching forecourts.
"The transition to electric vehicles, as evidenced by the continued increase in EV sales, will create opportunities for the motor retail sector. The UK Government must continue to act to support this transition and the wider UK automotive sector, one of the UK's largest and most important industries."