Aston Martin's debut SUV – the St Athan-built DBX – will double sales volumes for the iconic sports car brand's UK franchised dealers, according to Cambria Automobiles chief executive Mark Lavery.
The long-awaited unveiling of the 550PS DBX took place in Beijing, China, yesterday (November 20) with the claim that it will "propel the brand to new heights worldwide" and Lavery believes that the new model will deliver on Aston Martin's aim to sell 4,000-per-year globally.
Cambria moved into a new Aston Martin dealership in Hatfield last year and has plans to develop another new facility in Brentwood next year, with the arrival of the £158,000 model central to the plans.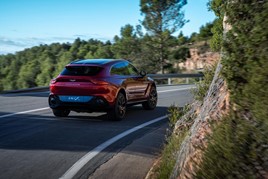 Lavery believes its success is a given. He said: "There is no need to keep your fingers crossed for DBX sales. It will do for the brand what the Urus has done for Lamborghini.
"The Urus doubled Lamborghini sales globally and the DBX will double our sales for Aston Martin. I have no doubt."
Aston Martin's global sales increased by 25% worldwide last year to 6,441 units but its share price has fallen 75% since it was floated on the London Stock Exchange last year.
The firm's £13.5m loss in the three months to September 30 compared with a profit of just over £3m a year earlier while revenues fell 11% to £250m, as wholesale volumes – cars sold to dealers – fell 16% to around 500 cars. Retail sales were down 6%.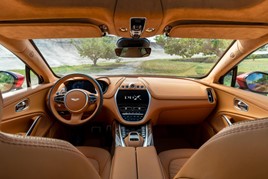 Over the first nine months of 2019, Aston Martin stacked up a loss of some £92m compared with a profit of £24m in the same period of 2018, prompting the company to borrow £120m at an interest rate of 12%.
But Lavery, whose own business emerged from a significant restructure to deliver a 37.4% increase in profit before tax in its latest annual financial results, published yesterday, said: "Has the company been through some challenges. Yes. But it has had to build a huge new factory and upskill an entire workforce to deliver the DBX.
"We have recently undergone a restructure into the luxury market ourselves. Did that bring short term challenges and discomfort? Yes. But we came through and our results are now bucking the national trend.
"I know Aston will succeed with the DBX."
Speaking at yesterday's Aston Martin DBX launch Aston Martin Lagonda president and group chief executive, Dr Andy Palmer said: "I can't emphasise enough how incredibly exciting and significant DBX is for Aston Martin.
"Through its development alone, this beautiful SUV has already taken the company into new territories and in inspiring directions.
"DBX also marks a key moment in the delivery of the third and final phase of our Second Century Plan, not only representing the promised expansion of our portfolio but also signaling the start of production at Aston Martin's second manufacturing plant.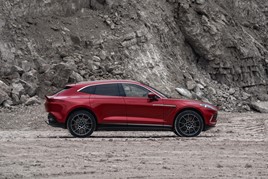 "We have both delivered this model through our expertise, but also by garnering invaluable experience and knowledge from external counsel, including our Female Advisory Board.
"This is a real landmark for this great British brand and I promise that DBX will reward all who experience it in their everyday lives."
Revealing details of the DBX specification for the first time, Aston Martin said that its SUV weighed in at an overall kerbweight of 2,245kg asnd featured adaptive triple volume air suspension, combined with the latest 48v electric anti-roll control system (eARC) and electronic adaptive dampers, to provide the new SUV with "a huge breadth of ability".
The model is powered by a new version of the four-litre, twin-turbocharged V8 engine found in DB11 and Vantage, featuring 550PS and 700NM of torque.
The result is a claimed 0 to 62mph acceleration time of 4.5 seconds and a top speed of 181mph.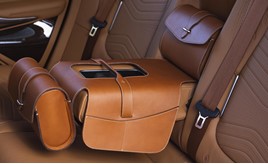 Practicality is also central to the DBX's sales appeal.
A 632-litre boot delivers ample load space while the option of a 'pet package', including a portable washer to help attend to the needs of a muddy dog after a walk, or a 'snow package' with boot warmers to make a ski trip just that little bit more pleasurable, are all offered by the brand.
Palmer said: "DBX is a car that will give many people their first experience of Aston Martin ownership. As such it needed to be true to the core values established in our sports cars, while also providing the lifestyle versatility expected of a luxury SUV.
"To have produced such a beautiful, hand built, yet technologically advanced car is a proud moment for Aston Martin."