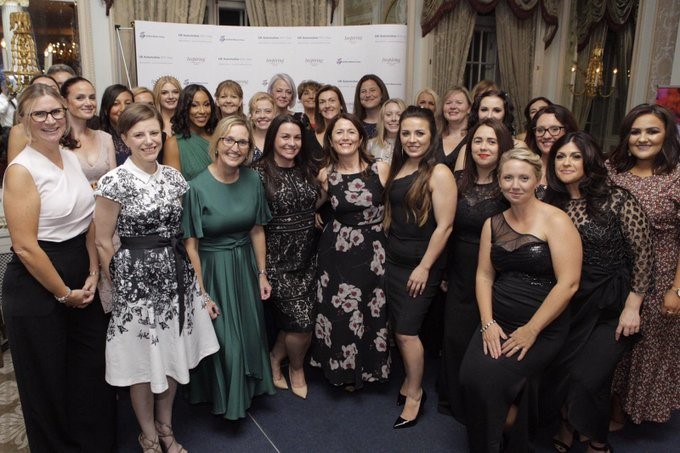 Top female employees from the franchised car retail sector have been recognised among the winners at the UK Automotive 30% Club's Inspiring Automotive Women Awards 2019.
Employees from Burrows Motor Company, Jardine Motors Group, JCT600, Marshall Motor Holdings and TrustFord were all among the accolades in the annual awards event which was founded by Julia Muir, the chief executive of the Gaia Innovation and founder of the UK Automotive 30% Club, "to celebrate and recognise the unsung heroes of our industry".
Georgina Slack, a specialist technician at JCT600 Brooklands Ferrari and Maserati dealership in Leeds, was among those to recieve special recognition.
Slack claimed the Trailblazer Award in recognition at an impressive eight years with the Bradford-based AM100 retail group which recently culminated in a her personal invitation from Ferrari North Europe to assist the supercar manufacturer with the Ferrari Challenge Series race events.
Giving an appraisal of the inspiring work she has completed at JCT600 so far, judges said: "Georgina has worked at JCT600 for eight years, three of which as a Ferrari apprentice.
"In her current role her main responsibilities include; maintaining and diagnosing specialist vehicles, ensuring total customer satisfaction, communicating defects with clients and problem solving."
Commenting on the role she played during her time working on the Ferrari Challenge Series race events, Slack said: "I checked vehicles before they went on track, as well as once they had finished, and I addressed any issues the clients may have.
"I feel that this activity improves gender balance in the automotive trade, as being involved in race days and motor racing is generally a male-dominated area and being personally invited by Ferrari is not only such a massive privilege for me, but also helps female representation."
Also among the awards on the night were a handful of the Inspiring Automotive Women Awards winners from the franchised retail sector.
Those recognised on the night were:
Amanda Mogan-Wilson, group communications manager, Jardine Motors Group
Tracey Wardell, head of customer experience, JCT600
Debbie Palfreyman, communications team manager, Burrows Motor Company
Sharon Ashcroft, HR director, TrustFord
Clare Martin, HR director, Jardine Motors Group
Donna Stoakes, service manager, JCT600 Mercedes-Benz Doncaster
Lucy Barnard, customer car manager Jardine Motors Group Mercedes Division
Katie Saunders, HR director, JCT600
Kerry Mavrides, senior HR business partner, Jardine Motors Group
Naomi Day, divisional financial controller, Porsche, high luxury, Toyota and Lexus division, Jardine Motors Group
Helen Burrows, HR director, Marshall Motor Holdings
Natasha Davies, service advisor, Shrewsbury Audi, Jardine Motor Company
Victoria Walton, general manager, Volkswagen Towcester, Jardine Motors Group
Yasmin Lord-Pottinger, dealership co-ordinator, Jardine Motors Group
Sinead Read, regional HR manager, TrustFord
Muir said: "Inspired by the women I worked with when I first joined the motor trade, I launched the awards to celebrate and recognise the unsung heroes of our industry.
"Often their valuable contribution is appreciated and acknowledged within their own teams or by customers, but they are rarely given the public recognition that they deserve for their efforts to create a positive working environment.
"I want to honour these brilliant women who are 'lifting others as they rise' and make them visible."
Muir added: "All of our fabulous award winners have demonstrated that they are making a significant contribution to their business.
"However they are also committed to inspiring other women to progress or encouraging leaders to create inclusive working environments within which women will thrive, and they are personally involved in activities to show that the automotive sector is a positive career choice for women."