Former CarShop chief executive Jonathan Dunkley has officially handed the used car supermarket business's operations over to "the Sytner Group machine".
AM reported back in December last year that Dunkley had departed the business, along with chief financial officer Brian Scott and commercial director James Dunkley.
The termination of both Jonathan Dunkley and Scott's appointment at CarShop was reported on the Companies House website on December 23.
James Dunkley subsequently joined Camden Ventures as a managing partner.
In March 2020 Sytner Group appointed former BMW division managing director Nigel Hurley as the new chief executive of CarShop.
Now Jonathan Dunkley has confirmed that he has completed his "final official day" with the AM100 2019's top car retail group in a message published via LinkedIn, where he is now listed as "enjoying some time off before moving on to the next exciting adventure!".
In his statement, Dunkley said: "After 17 amazing years as a CarShop employee, yesterday was my final official day having resigned my position as CEO earlier in the year.
"It has been a huge honour and pleasure to work in such a great business that has certainly played a huge role in shaping the person that I am today.
"I have learnt an enormous amount, been challenged and fulfilled, had loads of fun and most importantly made some hugely valuable memories and friends that I will cherish forever.
"I am proud to call CarShop my (first) legacy, having grown the business from a turnover of £200m in 2013 to the hugely successful and sophisticated £700m business that it is today.
"The journey culminated in the sale of the business to Sytner Group in 2017 and the time is now right to allow the business to be led by the Sytner Group machine."
Dunkley said that he was confident that with Sytner's continued investment and with the support of the fantastic team that he leaves behind, CarShop will "continue on its journey of growth and continue to help lead the evolution of the marketplace".
He added: "A huge thank you to everyone that has supported and worked with me over the years and I wish every one of you all the very best for the future.
"I'm sure that I will see many of you again soon. Another announcement on what is next for me will follow soon."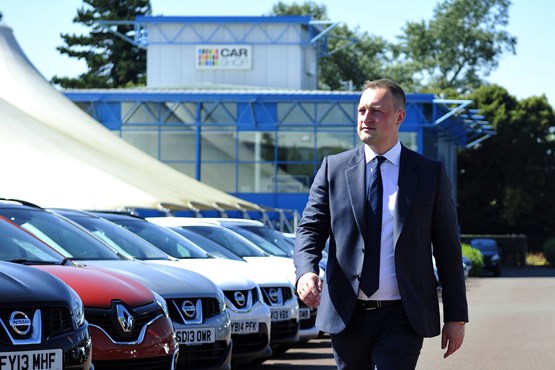 Back in 2016 AM interviewed CarShop CEO, Dunkley, prior its acquisition by the top AM100 group, Sytner.
Dunkley revealed detail of the car supermarket's growth strategy, which had led to a doubling of profits in just 12 months.
Sytner's 2017 acquisition of CarShop proved enough for Sytner to knock Pendragon off the AM100 rankings' top spot for the first time in 19 years.
According to the AM100 table of the 100 biggest dealer groups by annual turnover at the time, Sytner generated almost £4.3 billion in 2015, £158 million behind Pendragon on £4.46bn.
CarShop said it generated £208.6m in 2015 and estimated it would make about £275m in 2017.
Following the acquisition of CarShop Dunkley and Scott were made the CEO and CFO of Sytner's newly formed used car supermarket division, which included The Car People, following the acquisition of the Wakefield-based business in January 2018.
Sytner officially rebranded its car supermarket division to bring its sites operating as The Car People brought under the CarShop banner in June 2019.