Vertu Motors has recruited Auto Trader franchise brand director Chris Penny as its new group strategic projects director.
Penny, who has been with the online car retail marketplace for more than a decade, starts his new role with the AM100 PLC this month and will be central to Vertu's development of omnichannel car retail solutions for its customers.
He said that his new employers "ticks all the boxes", as he embarks on a new challenge, including a "culture as strong as its balance sheet".
Taking to LinkedIn to mark his move, Penny thanked his former colleagues at Auto Trader and said: "When choosing a new role, I wanted to join a business with a culture, set of values, ambition and potential that I could believe in and help to improve.
"Auto Trader taught me that great businesses aren't logos, brands and products, they are a collection of brilliant people doing what they are passionate about.
"Loving the #automotive industry as I do and with no desire to drift too far from my car retail beginnings, to find what I was looking for, I only needed to make one call.
"In January 2022, I'll be joining Vertu Motors plc. A company I've worked with as an Auto Trader partner for a number of years and ticks all the boxes for me. A culture as strong as its balance sheet and so much more to achieve.
"Thank you to Robert Forrester, David Crane and Karen Anderson for the opportunity. Let's make 2022 a year to remember."
One of the latest Auto Trader innovations rolled-out by Penny and reported on by AM was a Retailer Performance Masterclass (RPM) online hub, which aims to provide advice and support to car retailers through a series of "bite size" best practice tutorials.
Penny will be hoping to further upskill Vertu's employees for omnichannel retail in his new role.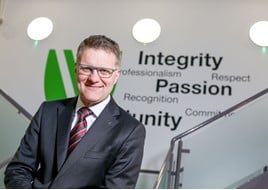 Commenting on Vertu's H1 2021 financial results in an interview with AM last year, group chief executive Robert Forrester said the group had introduced an online concierge service in the period as part of a bid to boost its non-physical sales.
Forrester said: "Pure online conversion ratio is about 0.0 of 1%.
"In the reported period we sold 600 used cars online, but we sold 50,000 cars in total.
"We think customers will benefit, and we'll raise our conversation ratio, with someone to talk you through the sale as you do it online. It's something I've seen implemented very successfully in the US."