Patrick McGillycuddy has become interim managing director at Jaguar Land Rover UK less than two years after he joined the national sales company from Volkswagen UK.
JLR UK's sales director steps up to fill a gap left by Rawdon Glover, who was made the UK MD in 2018 after five years as global director of customer services.
Glover is now going back into another global role - he will be brand managing director for Jaguar as it works on a relaunch for 2025 as an electric car brand.
McGillycuddy was Volkswagen's head of sales operations before he was tempted away by JLR. He had previously worked for Vauxhall too.
"Jaguar will be reimagined as an all-electric, luxury brand by 2025. It will be a copy of nothing," said JLR's statement. "As the business now prepares to launch the reimagined Jaguar brand to clients around the world, we have appointed Rawdon Glover as brand managing director, Jaguar."
The change comes as some franchisees ponder their future with the carmaker, which has announced it will adapt agency contracts in 2024 and which has started to talk to network investors about adapting the customer journey which has made some fear their huge investment in Arch Concept showrooms could be short-lived if the network is reshaped yet again.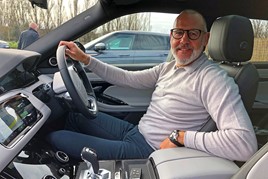 In 2019 Glover told AM he did not believe JLR has what he would refer to as "a commodity product", which he said ensures that 'destination dealerships' and the expert teams that staff them remain at the heart of the manufacturer's retail operations.
However, the £1bn Arch Concept corporate identity update clearly reshaped the Jaguar and Land Rover networks and reduced its 210 retailers down by half.