The Institute of the Motor Industry (IMI) Centenary Dinner beat the COVID-19 coronavirus lockdown to raise more than £17,000 in support of the automotive benevolent charity, BEN.
Steve Nash, the chief executive of the IMI and chairman of BEN, said that it was clear at the time of the event – hosted at the Intercontinental, on Park Lane, London, on March 11 – that the charity would have an important role to play in the sector's bid to remain healthy in the months to come.
"In normal times there is a real recognition of the support BEN provides to those working in the automotive sector when they face illness or financial difficulties," said Nash.
"But I think at our Centenary Dinner there was even more recognition of the role BEN will need to play in the coming months, so it was hugely gratifying to see the commitment demonstrated on the night, through contactless donations, as well as the traditional envelopes on the tables, and, for the first time, a silent auction."
As reported by AM last month, the IMI recognised the contribution that both individuals and organisations continue to make in the development of the motor industry, with annual Recognition Awards presented as part of the social event.
In 2020 the dinner celebrated the IMI's 100th birthday and followed a pledge from the aftersales training and assessment organisation to raise £100,000 for BEN by the end of the 2020/21 financial year.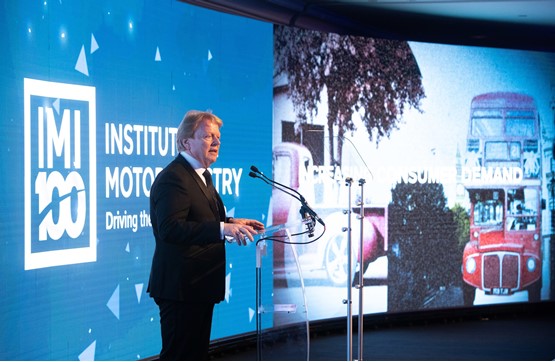 Nash said: "Our Annual Dinner is always a great networking opportunity, as well as providing the platform to recognise outstanding achievers in our sector.
"The 2020 event, marking the start of our centenary year, was no exception even though there was much talk about the likely impact of the coronavirus on all aspects of the automotive retail marketplace.
"But importantly, and I think really demonstrating the true spirit of the sector, attendees did not hold back in donating to BEN."
BEN provides a wealth of resources to support the health and wellbeing of those working in the automotive industry, including a helpline and a range of online tips, advice and tools accessible at www.ben.org.uk.
Earlier this month the IMI launched a dedicated resource hub for automotive industry professionals to access during the COVID-19 coronavirus pandemic.
The COVID-19 hub provides support, insight and resources to help automotive industry professionals, employers, learners and training centres overcome the challenges presented by the coronavirus outbreak.
"There is a plethora of information being disseminated on anything and everything related to coronavirus, but for many people it's hard to work out what's relevant to them and how to take the right steps for their own circumstances.
"We're distilling all the information and putting it into one place in our dedicated COVID-19 hub," said Nash.