Drover claims it is "primed to challenge a car retail and ownership model" after attracting further investment of £2.25 million and recruiting a new chief operating officer and chief marketing officer.
The London-based car subscription company attracted the funds from new investor Shell Ventures and the latest round takes total investment announced this year to £22.75m.
Following recent investment from new investors Target Global, RTP Global and Autotech Ventures, which was announced in July, Drover said that the funds will be used to help grow its electric vehicle (EV) proposition, find new technology development and help secure new talent.
Drover is an app-based service that connects customers with new and used car stock from partners like rental companies, dealer groups and leasing companies for a fixed monthly rental price, with insurance, servicing, maintenance, MoT, breakdown cover and road tax included.
Customers can upgrade, downgrade or cancel their contract after giving a month's notice at no extra cost.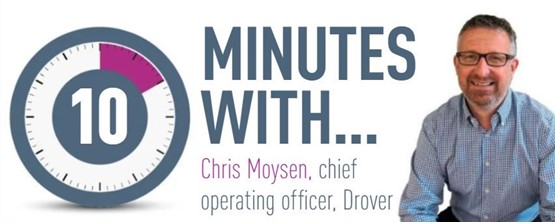 Chris Moysen was promoted from chief business officer to chief oprating officer in August and gave an insight into the business in a '10 minutes with..' interview in the current edition of AM.
Moysen has 25 years of experience in the automotive industry with roles at Hertz and Northgate Vehicle Hire.
Drover also appointed Alex Rose as CMO in September.
Following spells at BMW and then Google UK's automotive team, for the past seven years Rose has held senior sales and marketing positions at Carwow and WhoCanFixMyCar.com.
Moysen said: "I firmly believe the future of mobility is online and Drover's 'cars made easy' proposition is primed to challenge a retail and ownership model which has remained virtually unchanged for decades."
Rose will assume responsibility for all aspects of marketing, while using his trading experience to also manage vehicle mix, pricing and yield management.
Rose said: "Flexible subscriptions and all-in-one payments are increasingly seen as the smart, simple way to access products and services, and Drover's rapid growth shows that this model is also ideally suited to car ownership, for a significant proportion of drivers.
"I am truly excited by the opportunity to change today's fragmented car purchase and ownership process, by putting Drover's convenient, accessible, stress-free proposition in the hands of ever more people, in the UK and beyond."
Drover has also strengthened its asset management and supply chain team by appointing Paul Winter.
Winter has 30 years' experience in the fleet and rental industry having served over 15 of those as the fleet director for Hertz UK, a position in which he bought and sold more than 25,000 vehicles per year.
He will join Drover in November, as vice president fleet procurement.