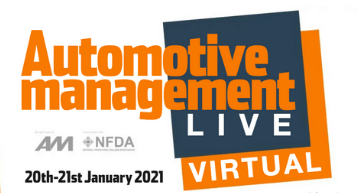 There are just 12 days left until Automotive Management Live Virtual, AM's online, two-day, festival of motor retail best practice for dealers and OEMs.
With 18 speaker sessions and case studies from more than a dozen dealer groups at AM Live Virtual on January 20-21, we can guarantee you'll log out afterwards with inspiration and ideas to help you run your retail group, dealership or department better.
You can network virtually with peers too.
Go to www.automotivemanagementlive.co.uk for the exact timings and agenda for each day.
And with the support of major dealer partners, such as RAPID RTC, CDK Global, CitNOW and Marketing Delivery, AM Live Virtual provides a great opportunity to network and find out the support and innovations they'll be providing to help motor retailers in 2021.
Exhibitors include:
Arena Group and Fujitsu PFU
BookMyGarage SecretService
CarGurus
CDK Global
Chrysalis Loyalty
CitNOW
Diamondbrite
Experian
Gtechniq
JudgeService
Marketing Delivery
MotorDocs
Profit Box
RAPID RTC
RealWorld Analytics
Reputation.com
Whether you're in work or on furlough, the time you can spend at Automotive Management Live Virtual will be wisely spent.
All presentations are being recorded and will be on-demand for 28 days afterwards, providing you've already registered!
Automotive Management Live Virtual registration is open to dealers and vehicle manufacturers only.