The Motorway used car stocking portal has seen its vehicle sales grow 300% by value in Q3 after appreciating prices transformed the sector.
Motorway said it has seen a 30% rise in the value of the average car sourced for its car retailer clients from private sellers so far this year, putting it on a run-rate to deliver over $2bn (£1.46bn) in completed sales over the next year.
A statement issued by the business stated: "The company recorded a 300% uplift in third-quarter sales to £306m compared with £78m last year.
"Between July and September this year, Motorway sold 20,076 cars.
"This accelerated growth has continued, with Motorway now selling well over 8,000 cars a month, with £140m cars sold in September alone.
"Over 100,000 used cars have been sold on Motorway since launch, with a new sale now agreed every five minutes."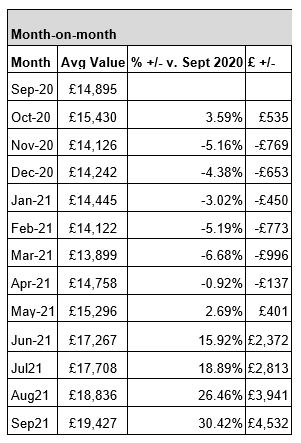 Cap HPI head of valuations, Derren Martin, recently described record used car value increases in September as a "black swan event" for the car retail sector, adding that the seventh consecutive month of rising prices was "extraordinary".
Last week AM reported on data from Cox Automotive and Auto Trader highlighted the rising competition for used car stock as limited supply continues to be met by continued consumer demand – driving prices up.
Retailers have diversified their stock acquisition policies as a result of the shift, with some turning to the likes of Motorway.
Today AM reported that Vertu Motors CEO Robert Forrester had, himself, been taking a active approach to stock acquisition. He said: "Wherever I go and whoever I meet I ask them if they've got a used car to sell."
Mirroring Auto Trader's publication of the market's most appreciating vehicles, Motorway gave a break-down of the vehicles for which scarcity and high demand have had the greatest effect.
In September, it found that the Ford Focus has appreciated by over 34%, selling for £3,346 more than last year, while one Vauxhall Agila sold for £2,300 – 46% higher than Q3 2020.
Motorway's used car appreciation data, by model: