Sony has unveiled what has been described as "a great secret" in the form of its Vision-S electric vehicle (EV) launched at the Consumer Electronic Show (CES) this week.
The Japanese electronics giant claimed that it had built the car to showcase its autonomous driving and in-car entertainment systems and has not confirmed if it plans to produce the model.
Sony has been interested in driverless auto tech for a while. Back in 2015 the firm pitched their sensors to auto makers at the CES. And it took a stake in the Japanese firm ZMP developing driverless tech.
The Vision-S showcases imaging and sensing technologies that contribute to safer and more reliable autonomous driving, with cameras and LiDAR creating a 360-degree "safety cocoon" around the vehicle.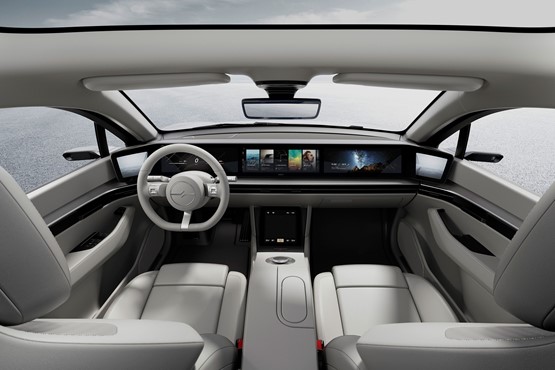 In total, 33 sensors are fitted to the car, including ones that can detect who is inside and tailor their in-car entertainment services.
David Bailey, professor of business economics at Birmingham Business School, believes that the car could be more than just a showcase of Sony's technology, however, and could signal a new entrant into the autonomous EV sector.
Speaking to AM, Bailey said: "It's still not clear if Sony intends to make such a car or whether this is a vehicle to show auto makers what great tech they have – especially sensors – to sell to the industry.
"My guess it is the latter, but the caveat to that is that they have gone to great length with a list of key players like Magna Steyr."
Is Sony capable of making an electric car?
Bailey pointed out that Sony has a turnover of US$80bn a year, making it bigger than many car manufacturers.
And with the Vision-S it has indicated that it has technology to potentially create a rival to the likes of Jaguar Land Rover (JLR) and BMW, who announced a collaboration that they were embarking on a partnership to help them develop the next-generation of electric vehicles (EVs) in June last year.
Bailey said: "(Sony) could afford the capital costs of making cars if it really wanted to. The firm has collaborated with a list of major auto and tech players to develop the car.
"My guess is that Magna Steyr will have developed much of the car with Sony and other tech involved and Magna will have actually built it.
"That might be a good way for Sony to enter the market if it does decide to – i.e. developing cars with other players and contracting out assembly – thus avoiding some of the challenges that Tesla has faced.
"Sony could be a big disruptor is it decided to go down this route."
While there was no potential pricing or specification data for the Vision-S concept revealed ta CES this week, Sony did confirm that the car is powered by two electric motors with a combined output of more than 500PS.
Unveiling the Vision-S yesterday (January 7), Sony chief executive Kenichiro Yoshida said: "It's not an exaggeration to say that Mobile has been the mega-trend of the last decade. I believe the next mega-trend will be mobility."