Despite volatile alternative fuel vehicle (AFV) values and reports of significant decline across the sector, there is 'no need' for car retailers to heavily write back stock values, according to Cazana.
Cazana director of valuations Rupert Pontin has followed-up his opinion that there was 'no evidence' to support suggestions of a significant decline in used car values in recent months with a monthly Used Car Market Update for May 2019 to back up his assertions.
Here, he gives AM retailers his take on what the pricing data providers 'real-time' analysis of the market has revealed over the past month:
There is little doubt that May 2019 has been a harder month than of late and this has given some valuation providers the opportunity to blame the need to edit values back to the true market level on more difficult used car market trading.
Using real-time information has never been so important and as such the true picture is actually far less worrying than some may have you believe and there is certainly no need to heavily write back stock values, as the market movements whilst evident are not severe.
Many people have tended to forget that the industry has been through an extended period of increased demand for used cars driven by the reduction in new car demand and also the fact that economic concerns have driven many buyers to look at cheaper used cars instead of new ones.
Couple this with the improvement in used car finance propositions and the market has understandably remained buoyant as consumers have been given the means to buy what they want at a sensible monthly retail price thus driving the used wholesale pricing.
Market movements
The data in this chart reflects the pricing and movements as a % of Original Cost from a Retail perspective and it is retail pricing that drives the wholesale market these days.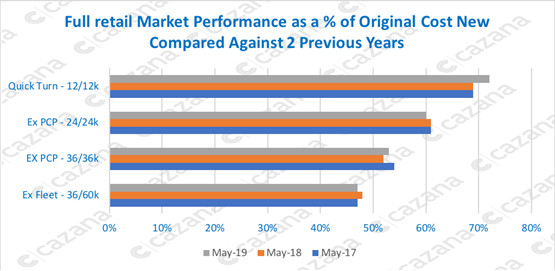 This data is key as it shows that the market has moved slightly year on year, a trend identified a couple of months ago.
There is still strength in the sub 12-month-old sector where retail prices have increased by 3ppts when compared to the same period last year.
The trend of the last two months around two-year-old and 24,000-mile ex PCP product has continued with a drop-in retail prices of 1ppt in comparison with May 2018.
Interestingly, three-year-old cars at ex-PCP mileages have increased by 1ppt over the same period last year and this may reflect the fact that cars on three year deals have been early changed as credit agreements fall into a positive position and consumers can get in a new car.
This ties in with the drop in two-year-old retail pricing which is under pressure due to a volume increase.
Finally, the three-year-old ex-fleet car has seen a drop of 1ppt in retail pricing perhaps reflecting the proportional strength in the new fleet car market and the increase in de-fleeted cars.
The other area of the used car market that has come under scrutiny of late has been the Alternative Fuel Vehicle (AFV) sector.
New vehicle registrations for these cars continue to increase as buyers seek to reduce taxation liability and follow the sometimes-erroneous belief that these cars are economical to run and good for the environment.
In a few cases this may well be true, but as many have discovered the writing on the tin does not always convey what's actually inside.
'Volatile' AFV trends
The data in this chart clearly depicts the rise in popularity of AFVs in the used UK car market.
The data also reflects the sensitivity of this market profile of the vehicle and the evolution of the retail pricing.
It is astonishing to see that the 24ppt difference between 12k/12k electric vehicles and the 24/24k product has narrowed by 8ppts in 12 months.
The stability of retail pricing for the latter profile has been getting better as time progresses but it is clear that this has been a delicate market and that has been due to volume and desirability of cars that arguably have compromised range, by today's standards.
The AFV market is shaping up to be a vibrant and somewhat volatile place.
With the product still in its infancy there is the danger that as new versions become available for sale the superseded models may drop in popularity very quickly.
It is also likely that as volume increases the performance against cost new will also decrease and this may happen quite rapidly.
Still in 'good shape'
In conclusion, May once more proved to be a tougher used car market although demand is still there are retail pricing has largely not fallen in a bid to drive used car sales.
Indeed, with two of the four key age and mileage profiles recording an increase in pricing over the same period last year the data argues that the market is still in good shape.
The value of looking at the complete used market assists with this and no one platform can compare with whole market data and reliance on manual editing is no longer good enough for businesses operating in this business space.
The coming weeks will be fascinating but as it stands today there is no need for panic as there is good retail business to be done.