Used electric vehicle (EV) values continued to rise as consumers warmed to electrification during October as petrol powered cars faltered and diesel vehicles showed signs of growing demand, according to the Auto Trader Retail Price Index.
Supply and demand factors were cited by the digital marketing specialist as the advertised average value of a diesel vehicle declined by 0.7% like-for-like as petrol cars delivered a 4.6% decline in the month.
The price of the average diesel vehicle declined to £14,421 as petrol dipped to £11,872, according to the Auto Trader report, as year-to-year like-for like average vehicle values declined by 3.2% overall, to £13,263.
Also last month, half of Auto Trader's monthly top ten fastest selling cars ranking was made up of diesel-powered vehicles.
The performance came in stark contrast to the Society of Motor Manufacturers and Traders' (SMMT) monthly new car registrations data for October, which showed that sales of diesel vehicles had declined by 21.3% during a month down 2.9% overall.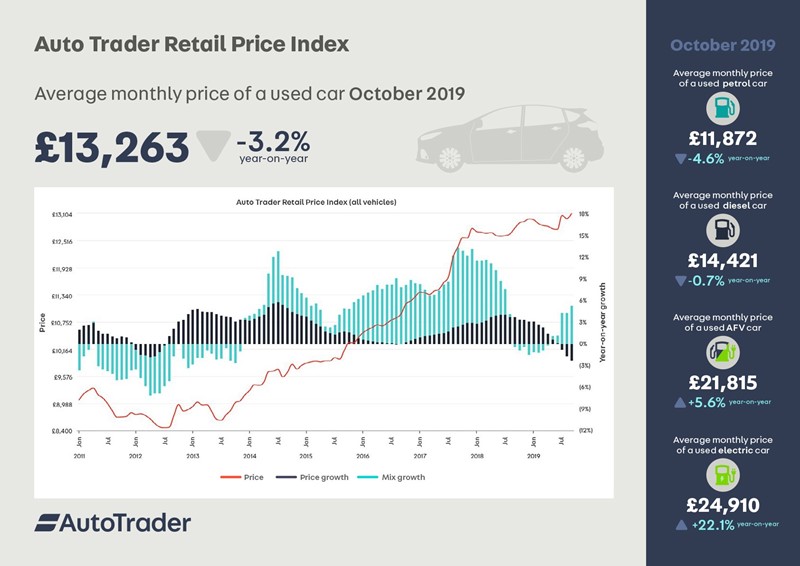 Karolina Edwards-Smadja, Auto Trader's director of commercial products, claimed that a "considerable change in the mix and profile of stock in the used car market", such as more expensive SUVs and low emission vehicles, had caused the overall average price recorded by Auto Trader's Retail Price Index to "remain stable", with the same factors impacting the average value of a diesel vehicle.
Auto Trader found that the average sticker price of a nearly new diesel car, up to one-year-old, had increased by 1.8% like-for-like in October, whilst used petrol prices fell a significant 9.2%.
Currently, on the Auto Trader marketplace, there are just 51,336 used diesel cars registered from 2018, compared to 88,714 petrol of the same age.
The average price of alternatively fuelled vehicles (AFVs), and in particular, pure electric, remain far higher than their internal combustion engined (ICE) counterparts.
On a like-for-like basis the average price of an alternative fuelled vehicle (AFV) increased by 5.6% in October, whilst the rate of growth of electric vehicles (EV) was 22.1% – a respective average sticker price of £21,815 and £24,910.
Although the cost of a used ultra-low emission car remains high, October marked the lowest rate of growth since May 2019 (+34.7%).
Edwards-Smadja said: "Whilst the rate of growth of low emission vehicles is slowing, albeit marginally, their average price continues to far outstrip their used ICE counterparts.
"As we've seen elsewhere in the market, prices are being heavily influenced by supply and demand.
"This month the Renault Zoe was the first pure EV to claim the title as both the fastest and second-fastest selling used car in the UK. We've also seen searches for pure EVs increase 46% on our marketplace since October 2018.
"Clearly, there is demand, however, with EVs representing just 1% of used cars aged up to three years on our marketplace, compared to 54% for petrol, it's unlikely we'll see average sticker prices decrease significantly any time soon."
Auto Trader reported that the percentage of fuel type searches attributed to AFVs had increased to 8% last month – a record a high.
Petrol cars remained the most popular, accounting for 48% of all fuel type searches, down from 49% in September. Searches for diesel cars remained flat at 43%.