Auto Trader has said that the Renault Zoe's dominance of its fastest selling used car rankings for November demonstrates car buyers' growing appetite for electric vehicles (EV).
The affordable French EV claimed the top two places, in the online car marketing specialist's monthly rankings, in 2015 and 2016 specifications, with the older example topping the pile – leaving car retailers' forecourts in an average of 21 days.
Its 2016 counterpart sold in an average of 23 days, Auto Trader reported, and the Zoe narrowly missed out on sweeping the podium with the 2017 model, which was fourth on the list compiled for the period to November 5, taking 27 days to turn.
The 2016 Seat Alhambra MPV broke-up the trio of Zoes, selling in a reported 24 days.
A new Renault Zoe was launched this summer, taking the copact EVs zero-emission range up to 242 miles.
Auto Trader's director of commercial products, Karolina Edwards-Smajda, said that the Renault Zoe's strong showing in Auto Trader's lastest fastest-selling used car rankings was "hugely significant", marking the first time a pure EV had taken both the first and second spot in its monthly fastest sellers ranking.
The result was also only the third time an EV has topped the monthly rankings.
Edwards-Smajda said: "This clear appetite for used and new EVs represent an exciting opportunity for retailers at a time when the market is facing such unprecedented challenges.
"Businesses should begin to make provisions for the accelerating demand, such as featuring charging points on their forecourts, train sales teams to explain the benefits and latest capabilities of electric vehicles, and importantly, market their alternatively fuelled vehicles the same way they do their petrol and diesel counterparts.
"Our research shows car buyers are increasingly viewing AFVs the same as any other car; it's vital retailers do too."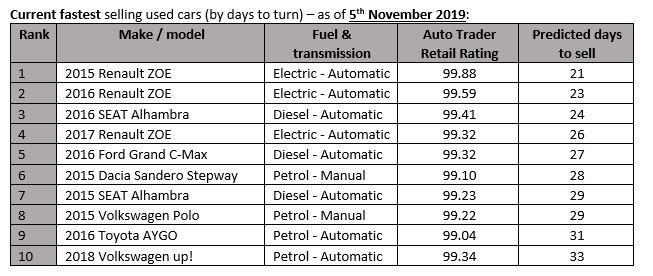 Auto Trader noted in comments on the wider top ten fastest selling vehicles data that SUVs and MPVs appeared to have been replaced by small petrol-powered hatchbacks, such as the Volkswagen Polo, Toyota AYGO and Volkswagen up!
The list of the current fastest selling used petrol cars is made up entirely of small hatchbacks, with the 2017 Volkswagen Polo (manual) topping the list at 28 days.
In contrast, only one of the fastest selling diesels was neither an SUV nor MPV – the 2016 SEAT Alhambra (automatic).
This could come as a result of changing attitudes towards high-emitting vehicles more broadly, or the failing consumer confidence highlighted by Cazana's Rupert Pontin last week, with Brexit and a looming election both impacting car buying decisions.