Half of Auto Trader's monthly top ten fastest selling cars rankings was made up of diesel powered vehicles as buyers demonstrated a continued appetite for the fuel type.
Just three of the vehicles which featured in the latest tables compiled from the online marketing platform's online classified advertising data were petrol and two electric as Seat's Alhambra MPV (2016 diesel, automatic) proved to be the fastest turning car on UK forecourts once again – taking just 23 days to sell on average.
It was the seven-seat Seat Alhambra's second consecutive month as the ranking's best performing vehicle.
Karolina Edwards-Smajda, Auto Trader's director of commercial products, said that modern Euro 6 diesel cars remain a popular choice among used car buyers "despite the negative rhetoric" around diesel emissions.
She added: "What's more, in case there were any doubts, we can see there is clearly a growing market for second-hand low emission vehicles.
"Not only are EVs consistently featuring on our Fastest Selling Index, but since October last year we've seen a 59% increase in searches for electric vehicles on our marketplace.
"As awareness, performance and the necessary infrastructure improves, we can only expect to see this appetite increase."
Auto Trader said that its data had indicated a growing appetite amongst car buyers for affordable electric vehicles (EV), with the Renault Zoe taking both second (2015 electric, automatic - 25 days) and fourth place (2016 electric, automatic - 26 days) ion the fastest sellers ranking.
The affordable French EV became the first pure EV to make it on to the top 10 when it was ranked sixth in July 2018.
While Renault wrapped up the fastest selling alternative fuel vehicle (AFV) title in this month's rankings, Seat secured top spot for both diesel and petrol fuel types.
While the Alhambra was the fastest selling diesel vehicle the 2015 Leon, automatic was the fastest selling petrol, leaving forecourts in an average of 29 days.
At the opposite end of the scale, the 2019 SsangYong Tivoli (manual) is the slowest selling used diesel car, taking an average of 150 days to sell, whilst the 2019 Citroen C5 Aircross (manual) currently sits at the bottom of the list for petrol, also taking an average of 150 days.
Auto Trader's fastest selling used cars (by days to turn) – as of 15th September 2019: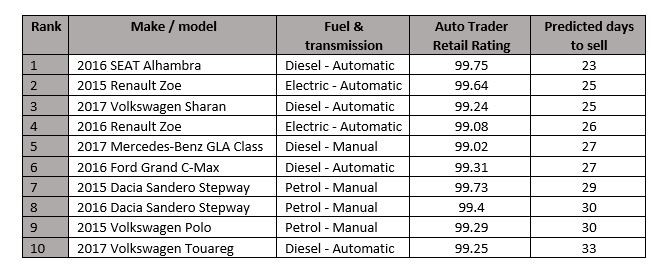 Auto Trader's slowest selling used cars (by days to turn) – as of 15th September 2019: