Volkswagen's e-Golf is the electric vehicle (EV) which holds its value the most, according to research by CompareTheMarket.
The research reveals how much electric and hybrid cars deprecate in value by comparing 'new' prices for the most common plug-in and hybrid vehicles to their used prices to reveal the vehicles which hold their value the most.
The VW electric version of the Golf was ranked the top EV with the lowest depreciation of £7,778 (25.1%), with used models selling for an average price of £23,248 – three quarters of its new price three years ago.
This follows by the two Tesla models, the Model S 75 (26.7% depreciation) and Model X 75D (27.5%)
As Teslas are among the most expensive EVs and benefit from regular software updates, it could help the models retain their value, CompareTheMarket said.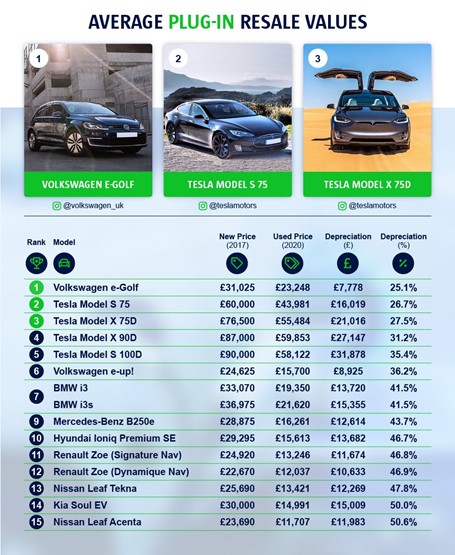 According to the research, the models that were 'the worst' at holding their values were the Hyundai Ioniq Premium SE, which has a depreciation of £13,682 (46.7%), Renault Zoe Signature Nav, which has a depreciation of £11,674 (46.8%) and the Renault Zoe Dynamique Nav which depreciates by £10,633 (46.9%).
In terms of hybrids, the Porsche Panamera E-Hybrid was found to have 'the best' resale value over the last three years, with depreciation of 21%.
This is followed by Mini's hybrid offering, the Countryman Cooper SE (31.5%) and another version of the VW Golf, the GTE Advance (36.3%).
The hybrids found to have the highest depreciation were the Kia Optima, which depreciates by £18,708 (53.2%), the Mercedes-Benz E350e (53.1%), Mercedes-Benz C5350e (51.5%), BMW 225xe Active Tourer (50.1%) and the Audi A3 e-tron (49.4%).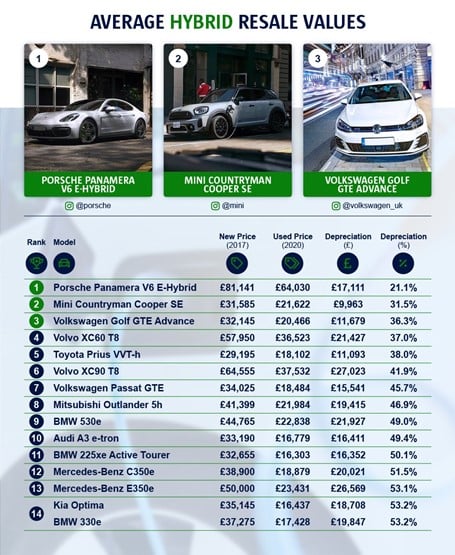 CompareTheMarket said, 'the worst' performing hybrids lose more of their value than electric cars, whereas 'the best' performing electric cars do not hold their value as well as hybrids.
Dan Hutson, head of motor insurance at CompareTheMarket, said: "EVs are becoming increasingly popular, and now that they have been in circulation for a while we are seeing them come onto the second-hand market, which is great news for people wanting to buy an EV or hybrid at a lower price.
"As the technology improves and cars become cheaper, we are sure to see greater adoption, which is the greener step forward that we need."
You can see the research in full on the CompareTheMarket website: https://www.comparethemarket.com/car-insurance/content/electronic-vehicle-resales/