Many of us expected Q1 loses for Tesla last week, but I for one hadn't anticipated such eye-wateringly bad figures. The firm lost over $700m in the first quarter of 2019, one of its worst quarterly results ever.
That had come after two quarters of profit in the latter part of 2018. Even as late as January, Tesla chief executive Elon Musk was bullish about a Q1 2019 profit: "I'm optimistic about being profitable in Q1 and for all quarters going forward," he said.
In a call with investors last week, Musk highlighted the challenges in shipping cars from one factory to global markets, stating: "This is the most difficult logistics problem I've ever seen, and I've seen some tough ones."
To be fair, there's something in what he's saying. The firm has grown very rapidly indeed and is struggling to export cars all over the world in larger volumes. This is not something it has had to do before, and it has to learn fast.
Shipping cars around the world can add about ten per cent to production costs. This adds to costs at a time when Tesla is trying to cut cost so as to scale up.
So Tesla is right to be building a plant in Shanghai, China to serve the biggest EV market in the world, and is looking at building a factory in Europe given the more rapid pace of EV take up there as compared with the US (although Germany as a possible location seems something of a surprise as against a lower cost Central European country).
But the logistics issue isn't the whole story. There seems to be a demand side problem in North America as tax credits for Tesla cars dry up.
Of course, that's not something Tesla claims to recognise. Only last week Musk claimed that "my impression right now is demand is strong" and that "demand for Model 3 is insanely high. The inhibitor is affordability."
To boost affordability, Tesla announced in late February that it was finally making the long-promised $35,000 version of the Model 3.
To help get there the firm announced it was cutting operating expenses by closing most of its stores, laying off workers, and shifting to an online-only sales model. It later appeared to backtrack on this.
But in the US, a federal tax credit worth $7,500 off the price of an electric vehicle has been halved, and is due to fall to zero in 2020.
And while the $35k Model 3 finally shipped, it's only available to order by phone or online, with Musk joking that hadn't put an "obstacle course" in front of customers who want to buy it.
So the loss is a partly a result of Tesla's very rapid pace of growth over 2018.
It went form delivering some 1500 Model 3 cars in 2017 to 140,000 in 2018, on top of 100,000 Model S and Model X cars.
Overall the firm more than doubled output in 2018, going through "production hell" and "delivery logistics hell."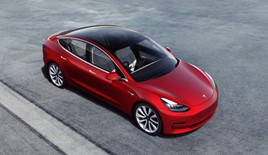 In so doing the Model 3 became the best-selling EV globally. That was no mean feat in a capital hungry business where the firm was effectively starting from scratch and challenging incumbents with radically new technology.
But the loss also reflects something of a Catch-22 situation for the firm. The firm needs scale to get costs down, but it needs lower costs to get scale.
Tesla had about $2.2 billion in cash at the end of the quarter, having burned through $1.5bn in the quarter (although a slug of this went on debt repayment).
The firm will probably need to raise more money in order to fund the construction of the new factories that will be needed to deliver the Model 3 overseas.
Meanwhile, traditional auto makers are finally getting their act together on EVs and competition is hotting up for Tesla.
Jaguar's I-Pace is a genuine competitor to the Model-X for example, and firms like Audi and Mercedes-Benz are planning a raft of new electric models.
Tesla's share price barely moved after the bad figures last week – they'd already dropped after news that Ford was planning a $500m investment in new entrant Rivian to make electric pick-ups.
In contrast, so far Tesla has gone it alone.
But teaming up with an established automotive player through a formal partnership or licensing agreement could be a way of avoiding further losses.
Firms like Tata Motors, which owns Jaguar Land Rover, would be keen to get their hands on Tesla's EV and autonomous driving technology, and already have factories and distribution centres around the world that could be used for Tesla models and platform sharing (as Volkswagen and Ford will do over EVs).
Last week, possibly to distract investors ahead of dire results, Musk pointed to a future of driverless Tesla taxis as early as next year, although analysts remained highly sceptical over Tesla's ability to deliver such a vision in anywhere near as short a time frame (Musk had famously said in 2016 that a Tesla would drive itself across the US in 2017; it still hasn't).
Musk is right on a future vision of driverless taxis shuttling us around cities in the future. But that could still be years away.
All of which raises a question as to whether Tesla can continue to go it alone. Ultimately the firm may well be successful in changing the world of personal mobility. It has already made electric vehicles acceptable and 'sexy'. But that doesn't mean Tesla will survive as an independent player.
At some point a tie-up with an established player may still be needed.
Author (pictured): David Bailey, Professor of Business Economics at the Birmingham Business School, will be a speaker at the May 21 Automotive Retail Congress, hosted by AM at the Ricoh Arena, Coventry.