The launch of the Polestar 2 is about more than just the Geely-owned brand's first fully electric car, it's about the introduction of a new type of retailing.
Polestar wants to be a fully digital brand and that means buyers will not be able to walk into a showroom and buy a Polestar, or visit a dealership for servicing.
The premium segment electric car is only available online and aftersales services will be provided via an electronic booking system with delivery and collection.
A national test-drive campaign is under way, but initial slots were fully booked within hours.
The £49,900 Polestar 2 is a direct rival to the Tesla Model 3, Audi E-tron and Mercedes-Benz EQC and its underpinnings are shared with the soon-to-be-launched Volvo XC40 Recharge, but that's where the similarities end.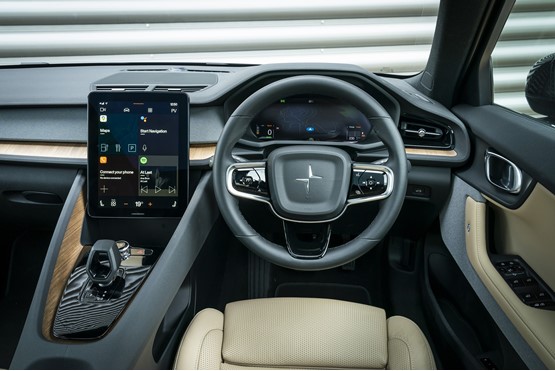 Polestar took inspiration from a Volvo concept car and made it a reality. It's lower than an XC40 and has a bespoke interior, with an all-new infotainment system.
The twin electric motor puts out 408PS to all four wheels, giving a swift 0-62mph time of just 4.7 seconds. Acceleration is instant and relentless, with the 50-70 mid-range, punch especially aggressive.
A 78kWh battery provides a WLTP range of 292 miles and a rapid charge time of 0-80% in 40 minutes. Our experience suggests 250 miles should be achievable.
What's most impressive about the Polestar 2, when considering its platform, is the way it drives. Unlike Volvos, which focus on comfort, the Polestar 2 is engaging.
It lives up to the brand's performance promise. The low placement of the battery helps keep the car planted, while its specially tuned suspension takes corners with ease.
The electric motors divide power between the axles to maximise grip. After a few laps of Millbrook's Alpine handling course, we were impressed with the 2's abilities. However, when driving the car on 'normal' roads, the capabilities are well hidden.
On a motorway jaunt, the Polestar 2 exhibits the same levels of comfort and refinement as a luxury saloon. There are no sport or eco modes to worry about, just a nicely tuned accelerator pedal that allows for effortless (and efficient) cruising or breakneck acceleration, dependent on how far you dare push it.
For an additional £5,000, an optional Performance Pack adds manually adjustable suspension and Brembo brakes for the full track-spec experience. The ride is less forgiving, it must be said. The Polestar 2's infotainment system is also worthy of praise. Apps like Google maps and Spotify are smartly integrated into the central touchscreen, enabling a smartphone experience.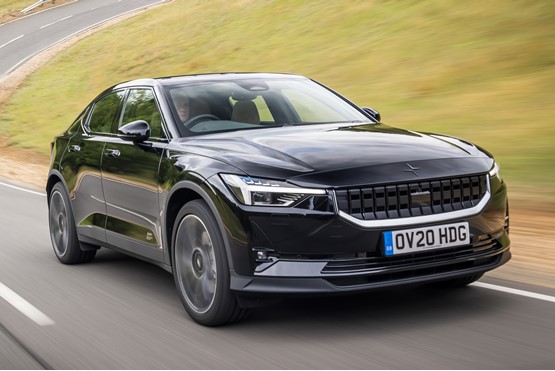 Operation is simplistic, as are all the car's features. You don't even need to switch it on or off, just jump in and select 'drive'.
The interior is beautifully finished with a variety of materials, including real wood and vegan fabrics. There's plenty of space for passengers too, with similar cabin space to a large saloon.
The boot is about the same size as you'll get in a VW Golf, plus there's an extra storage space under the bonnet, ideal for storing the charging cables. Cheaper models, including a single motor version, will be launched in due course. But for now the fully-loaded Launch Edition is the only model offered.
There aren't many negatives. The Polestar 2 is reasonably priced, great to drive and highly desirable, just don't expect to see one on your forecourt anytime soon.
Q&A WITH JONNY MILLER, HEAD OF SALES DEVELOPMENT, POLESTAR UK

What should a customer expect from your digital-only buying process?
The way people buy cars is changing. We've already seen a shift towards online sales for new and used cars and the coronavirus situation has only sped that transition up. We will offer buyers the chance to see the car at one of our Polestar Spaces, which will be opening in numerous locations across the UK. Sales will only be handled online, via our website. Once the car arrives in the UK we will handle the prep centrally before handing it to our logistics provider for delivery. All vehicles will be delivered by truck, with at least 75% battery charge and there will be a personalised handover for each customer.
How will you deliver an aftersales proposition without a dealer network?
Aftersales is one of the areas where we can utilise elements of our sister brand, Volvo. We will use the Volvo dealer network to perform servicing and repair work as necessary. The sites will not be branded as Polestar, however. In fact, we don't anticipate that the customer will ever actually visit a dealership. In keeping with our digital experience, owners will use their smartphone to book a service and the car will be collected by the dealership and then returned to the customer once the work has been carried out. With the digital key, the customer will not even have to physically meet a person as the driver will able to access the vehicle and drive it away using a one-time access code on their own device.
Will Volvo dealers make money from this arrangement?
We will pay Volvo dealers to carry out the work on our behalf so they will make money working on our cars. Almost of all of the Volvo dealer network is signed up to provide Polestar aftersales services. In the longer term, as more vehicles become electric, workshops could get less busy, this additional work from Polestar will enable Volvo dealers to remain busy. All Polestar 2s include three years' servicing, so owners will not pay anything during that period.
What will you do with used models?
We are working on an approved used car programme. The world of used cars has become digital, that is how we envisage our model. We aim to make the used car buying experience as close to buying new as possible.