Long term test: VW Arteon Shooting Brake R-Line 2.0-litre TSI 190PS
As one of Volkswagen's flagship models, the Arteon has the technology, styling and comforts to do battle with premium-badged rivals. It's so desirable that it helped seal the fate of the workhorse VW Passat saloon, which has been withdrawn from the UK market.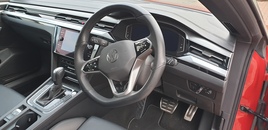 The addition of the Arteon Shooting Brake version, which AM is running until late-spring, hasn't done the same for the Passat estate, which still outsells it by more than two-to-one. This is partly due to Arteon's £7,000 price premium over the unexciting estate car.
Yet one could imagine some small private fleets – the main target market – will cough up for the more eye-catching Arteon if it'll keep their middle-managers happy.
Its 590-litre boot (60 litres smaller than Passat estate) won't bother buyers when they realise the vast legroom Arteon offers to rear occupants – this car really is built to transport four adults in total comfort.
The standard Travel Assist package of level two autonomous driving backs that up further with lane keeping assistance and traffic jam assistance that'll automatically brake or accelerate in line with a vehicle in front. Stress-free motorway trips are becoming closer to reality.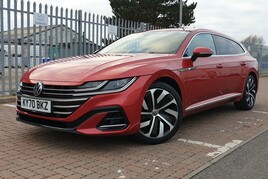 With R-Line trim, our car is more focused on sports performance than outright comfort, which is the realm of Elegance trim cars. Couple this specification with the 190PS petrol engine and slick seven-speed automatic DSG gearbox -with paddle shifters on the steering wheel - and it's a combination that works.
Volkswagen has found this is the most popular derivative in the range. It'll sprint to 62mph quicker than a classic Ferrari Dino and provides good driver feedback once in 'sport' mode.
The sacrifice for all that power comes in running costs and CO2 emissions – the highest in the Arteon range except for the crackers 320PS R.
Buyers who value efficiency most can be guided to the plug-in hybrid version if their budget allows.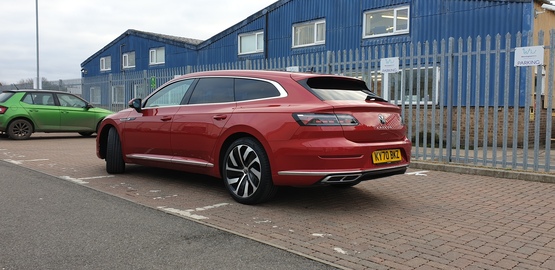 Price £38,790 (as tested, with options: £47,350)
Engine 2.0-litre turbocharged, 190PS
Transmission 7sp DSG auto
Performance 0-62mph 7.8 secs
Top speed – 145mph
CO2 - 168g/km
Economy – 38mpg
Start mileage 10,993
Current mileage 11,729
Pros Classy looks and kit
Cons Running costs