Long term test: VW Arteon Shooting Brake R-Line 2.0-litre TSI 190PS
Having just got back from a round trip of almost 300 miles, taking in gently winding A-roads, a 'smart motorway' and some tight, rural B-roads, I feel better placed to assess some of our Volkswagen Arteon Shooting Brake's strengths.
I also feel ache-free and fairly relaxed, thanks to its comforts.
At times, I felt that every driver should experience Volkswagen's Travel Assist system, a level two autonomous driving package builds on adaptive cruise control with lane keeping assistance and traffic jam assistance that'll automatically brake or accelerate in line with a vehicle in front.
Customise its setting to suit your style and it's like having a supportive driving instructor who gently guides you along and occasionally sneaks their foot on a dual control pedal when the traffic ahead suddenly slows sharply.
In fact, that journey rekindled my admiration for Travel Assist. The prior week I seemed to be greeted daily by a 'bong' sound and an amber 'Travel Assist is currently not available' message every few minutes once I'd left my village on the school run.
That almost had me screaming back at the car in frustration.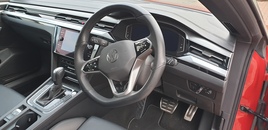 Yet, once off the motorway and onto Shropshire's B-roads I discovered the thrill-seeking side of Arteon, thanks to its powerful 2.0-litre turbo petrol engine.
Selecting the sports option in its driving mode selection screen tightens the electronic steering and sharpens the accelerator pedal's response.
It also switches the DSG automatic gearbox to 'S' position, to hold onto the gears for longer before changing up a ratio.
This car is two-faced: it manages to provide both relaxation and thrills in one elegant, capacious package.
For maximum enjoyment I stuck it into manual mode and used the gearchange paddles mounted behind the steering wheel.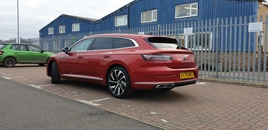 I concede it's not exactly Mazda MX-5 levels of fun but that's unsurprising. You cannot forget that this is a large, luxurious car, almost five metres long and 1.9m wide, and not a nimble two-seater sports car.
Nevertheless, with the right selections for the right road this 190PS Volkswagen Arteon can live up to that sport setting's name and put a smile on your face.
Price £38,790 (as tested, with options: £47,350)
Engine 2.0-litre turbocharged, 190PS
Transmission 7sp DSG auto
Performance 0-62mph 7.8 secs
Top speed – 145mph
CO2 - 168g/km
Economy – 38mpg