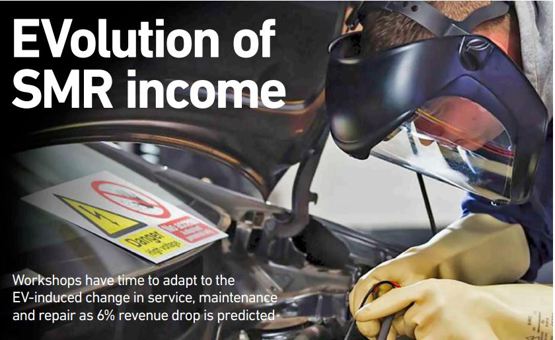 Aftersales departments need to be prepared for a substantial change to their business model in the coming years as plug-in vehicle sales create a complex world with lower maintenance and new skills and equipment needed.
The UK is set on a path to electrification as all new car sales transition to zero emission technology by the 2035 deadline. Most franchised dealers are already in the thick of it. They have invested in specialist tools and training to cater for the service, maintenance and repair (SMR) needs of the electric vehicles (EVs) already on the road, as well as to adhere to the standards expected of them by their manufacturer partners.
ICDP associate director, France, Thomas Chieux is leading research into projections for how EV sales will impact aftersales work across major European markets. Factors include estimated EV sales rates as well as how average annual mileage impacts the aftersales parc flowing through to workshops.
ICDP is also looking at more mature plug-in vehicle markets such as in Norway. Norway already has a new battery electric vehicle (BEV) market that accounts for more than 85% of new car sales.
Chieux says: "Our simulation expects there to be a mix of 22% BEVs in UK dealers' aftersales parc for zero-to-four-year-old cars by 2030. We are expecting a 6% drop in aftersales revenue as a result of the penetration of EVs in the UK."
Chieux says this drop isn't perhaps as dramatic as might be expected and while it is possible revenues will drop further in the future, he says that, importantly for workshops, "there is time to adapt". One area Chieux urges dealers to examine is tyres.
ICDP data shows a 20% increase in tyre consumption for EVs compared with internal combustion engine (ICE) vehicles due to the higher torque and overall weight of vehicles leading to greater wear. ICDP data from Germany shows revenues generated by tyres on EVs have been almost as high as the revenues from general maintenance on the zero-to-fouryear-old EV market.
Chieux says: "Tyres is an area of great competition, but it's a segment dealers should be thinking about."
Individual garages are looking at tens of thousands of pounds, rather than hundreds of thousands, to be fully set up to service EVs, including the cost of tools and training. Personal protective equipment (PPE), basic additional workshop equipment and insulated tools are needed to protect technicians from the high-voltage systems in EVs.
Franchised dealers also have the additional cost of installing a number of charging points.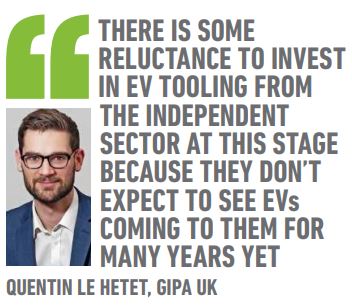 AM's conversations with various sources show the basic investment in completing routine servicing work for EVs can be as little as £6,000 for an independent garage. But, again, training costs also need to be factored in.
Quentin Le Hetet, the UK general manager at automotive aftermarket market intelligence company GiPA UK, told AM: "Most franchised dealers will look at return on investment (ROI) and have a multi-year plan for EV servicing, including recruitment and training.
"When we think about equipment and investment, the biggest investment really is taking the time for the vision for EVs.
"This is what will make the difference. Being able to have that vision and recruit and train accordingly is the most important thing."
According to the latest figures from the Institute of the Motor Industry (IMI) only 11% of technicians in the UK are qualified to work safely on EVs. While this represents a 4.5% increase on 2020, it still highlights the skills shortage in the percentage of the automotive sector competent to work on EVs.
IMI data figures predict a shortfall of 25,100 qualified technicians and this could start to impact the ability to meet EV servicing demand by 2027.
The IMI has called on the Government to invest £15 million to help fund training for 75,000 technicians to get them EV-ready. IMI chief executiveSteve Nash says: "It must be becoming increasingly clear to even the greatest sceptic that the EV movement is now an inexorable trend that they must engage with if they want a sustainable business beyond 2030.
"With one-in-four new registrations now being electrified and EVs predicted to overtake ICE registrations by 2026/7, the economics of not engaging with EV SMR become increasingly questionable."
Nash is urging independents to consider a step-by-step approach to EV investment. He says: "The investment doesn't have to be huge if taken in bite-sized steps and will ensure that they remain 'in the game', rather than left behind."
GiPA's own November 2021 consumer survey of 420 UK EV and plug-in hybrid drivers in charge of maintenance shows that 57% of them have been prompted to take their vehicle to a workshop they have not used before due to seeking specialist tools and technicians.
EVs are creating a natural retention for franchised dealerships which are seen as leading the way for specialist expertise. Le Hetet says: "There is some reluctance to invest in EV tooling from the independent sector at this stage because they don't expect to see EVs coming to them for many years yet.
"Customers are keeping EVs longer within the franchised dealer system and so this is holding back exposure to independent garages even more."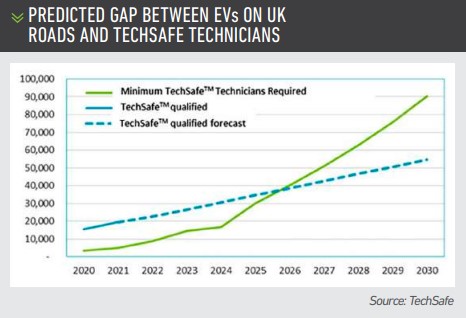 Le Hetet thinks it's unlikely workshops will be disposing of ICE specialist equipment in their workshop before 2040. He pointed out that diesel volumes only started to ramp up from 2009 onwards and have dropped off since Dieselgate in 2015, but the UK aftersales car parc will still have many diesel jobs to do for years to come.
Global technology driveline and EV fluids manager at Castrol Paul Beasley says that, while there will be a change in the mix and types of fluids, ICE maintenance and the equipment required by workshops will remain long after 2030. The biggest difference will be the continued reduction of engine oil sales as EV sales increase.
However, EVs still require transmission and brake fluids, as well as thermal management fluids and battery coolants, plus EV-specific greases.
Beasley says: "It's still early days in terms of the fluid lifecycle for EVs. The mix will change and that will depend on the deployment of the different technologies from OEMs."
Castrol has been developing new thermal management fluids that will have a higher degree of recyclability. So, it's likely new collection and recycling methods will need to be introduced. Beasley adds: "It will be shades of the same. Transmission fluids on EV are very similar to ICE, but the viscosity is thinner so it's actually quicker to get them moving in and out of the vehicle and so time on the ramp is reduced.
"Much of the same infrastructure for disposal will be the same though."
There is a widely accepted view that EVs are mechanically simpler than ICE vehicles, which will most probably reduce overall service and maintenance requirements. However, the progress of new autonomous, connected, electric and shared (ACES) technologies are making vehicles more complex in other ways.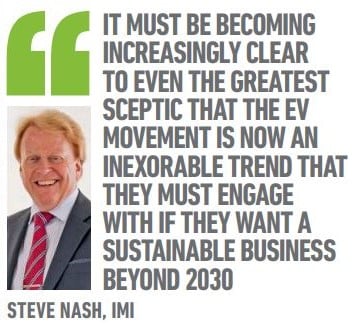 Nash said: "Taking a holistic view and ensuring that the workforce is appropriately qualified and equipped to look after all of these new and emerging technologies should still provide workshops with plenty of commercial opportunities."
Calibration, electronic work, checking updates and a greater use of diagnostics will require more expertise for technicians in the future. Manufacturers have quoted savings of between 30-40% on maintenance for an EV compared with an ICE vehicle.
However, that hasn't been the case in practice so far according to Le Hetet.
Le Hetet said: "We're not seeing service pricing on EVs at a lower rate for the franchised sector at the moment.
"Dealers may price a different labour rate for EVs because it's a new investment and there is new training. We're still in the late take-off phase so it's too early to say how prices will settle.
"There are fewer parts, but more checks, more specialist diagnostic work and how this will be valued is what will set the market for the coming years."