Spend time with Eddie Hawthorne, the chief executive of Arnold Clark Automobiles, and it soon becomes evident that the ethos of the group has not really changed from that laid down by its eponymous founder – trying to give value for money to customers and giving excellent customer service. What has changed, however, is how it manifests itself in today's environment.
The late Sir Arnold Clark built a group that has variously been described as "a used car machine" and "a money-making machine" over the years. It is fast becoming "a modern retailing machine".
The UK's largest privately owned motor retailer, Arnold Clark has a large digital department – almost 100 software and website developers – as car buyers do more on the internet, but the cars still sit at showrooms. In a changing industry, Hawthorne (pictured) knows there is resilience for the business in how Arnold Clark's teams transition a strong digital experience into a comfortable physical experience.
The group, fourth in the AM100, has put lots of resources into digital platforms and front-end systems to allow staff to deal with customers in a personal way, he said. Doing this in-house, rather than contracting out, means the company is the master of its own destiny and can react quickly, he said. But this policy required Arnold Clark's headquarters, based alongside its Hillington Renault dealership, to move ahead of typical motor retail working conditions, of 'suited and booted' staff and ordinary office space.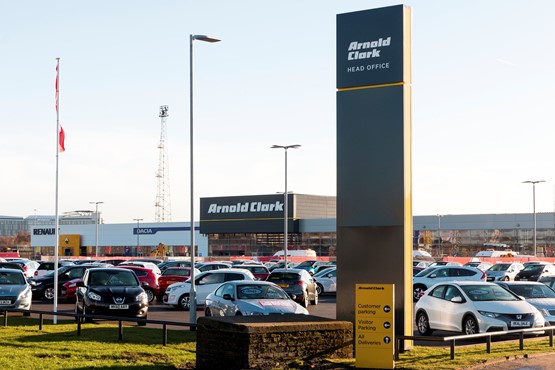 To attract talented young software developers, who are also in demand from companies in other industries, Arnold Clark promises flexible working, a casually dressed and creative workplace, and benefits such as a vibrant, discounted canteen and a monthly coffee budget. The 'Google effect' is evident.
"It has been under way for about five years, but probably in the last two we have gained serious traction. We had to become an employer of choice for developers; a motor dealer wasn't seen as that, and we were competing with Morgan Stanley, Skyscanner and the like.
"We restructured our business to become an employer of choice for these people. In addition, we put serious back-end investment into our infrastructure and computer hardware."
Hawthorne said the internet means dealers now compete with all other retailers for consumers' time and disposable income.
"Therefore, what other retailers offer, we as a motor industry, and particularly Arnold Clark, also should offer. That's why we put the investment into digital. But, similarly to most motor retailers, we have a huge physical presence, because the actual handing over of cars is space-hungry. We're trying to make our stores more inviting for customers, and that tends to be about the people – an improved, more personalised customer service, getting away from processing people to helping people.
"In the digital journey, the customer now does most of the processing themselves, which leaves us more time to actually sit down and talk to them." Hawthorne said the group believes the physical experience is still a necessary part of retailing vehicles. The internet has limitations in that it cannot physically show consumers how cars and the technologies inside them actually work.
Arnold Clark has 'softened' the experience in its showrooms. Sales staff have ditched their suits and ties and been rebranded 'product consultants', and there are more than 400 product 'geniuses' across its group, who explain cars' features and technology to prospective buyers and accompany them on test drives.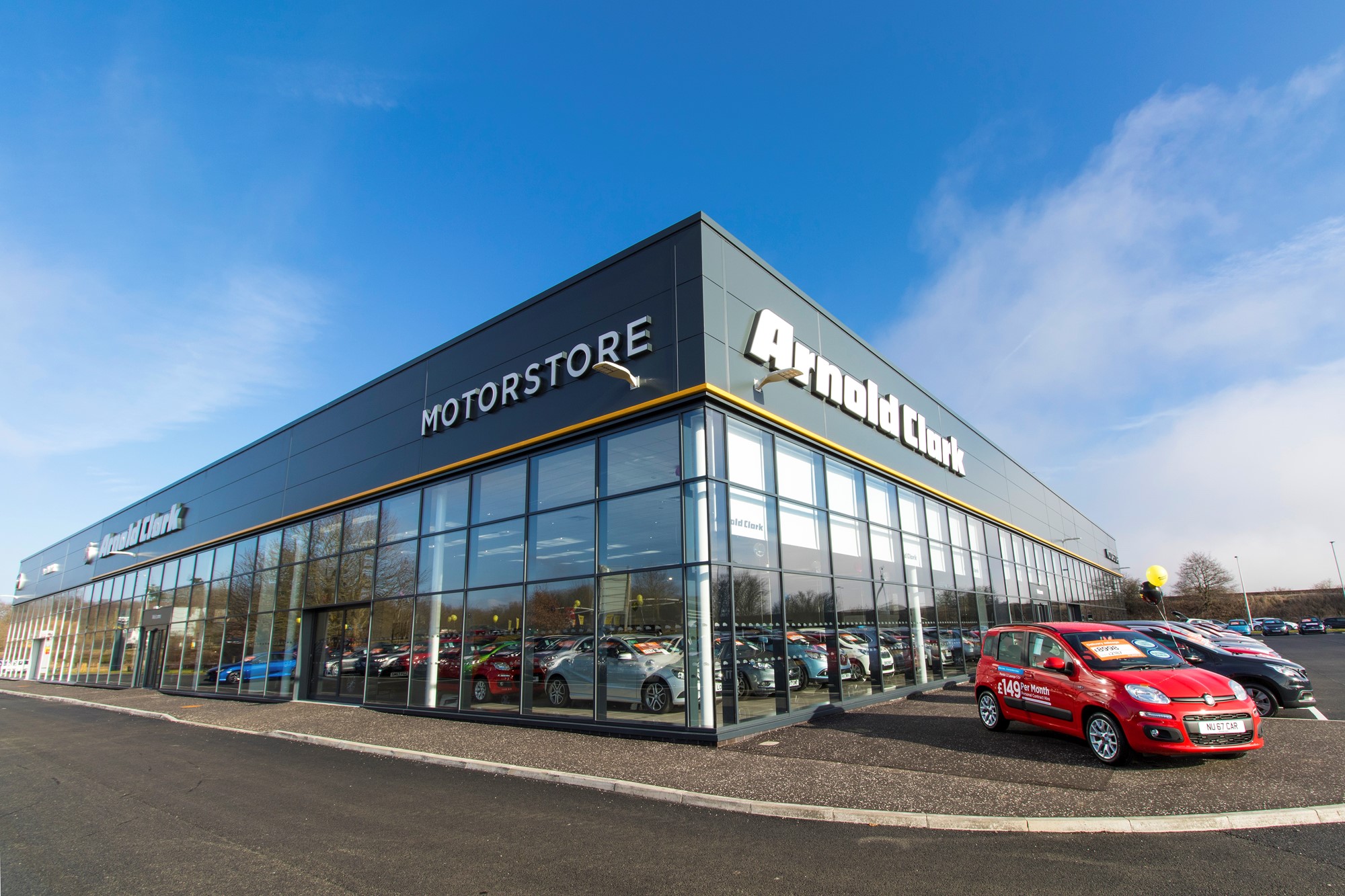 Whether online or in-store, consumers can use Arnold Clark's 'Deal Builder', one of several products from its software development team.
Hawthorne describes it as "putting the control in the buyer's hands".
After finding their desired car, the consumer can value their part-exchange, get a finance quote, and decide whether to make an appointment to see it and test-drive it or whether to reserve it online. The elements the consumer has completed in the process online are registered in the group's sales system. When the prospective buyer attends the test drive, staff at the showroom know they have already valued their trade-in or calculated their monthly payments, and these elements needn't be discussed, said Hawthorne.
"Because our web team sit next to our sales team, they're working in harmony."
Car buying reduced to two signatures
Two years ago, Arnold Clark launched an initiative called 'Easy To Do Business With'. At the time, buying a car required 17 customer signatures. With the exception of the finance, the group has reduced that to two signatures. If a customer goes away to think about it, Arnold Clark can send them a secure link, which allows them to complete the purchase at home, then arrange to come in for collection.
Hawthorne recognises that customers are time-poor, and making it easy for them is key.
"Any customer has a bit of apprehension when they walk through a showroom door. But if they've been on the digital environment, and through most of the sales process, they know they don't have to do all that again, then they're more comfortable and they have more time to spend with us."
Arnold Clark has sold nearly 300,000 cars a year since 2016, and Hawthorne expected it to exceed that level in 2018.
His aim is to get to 450,000 cars.
Achieving that means expansion in all areas of the group, but with some consolidation of its franchised network likely, to operate more 'hub and spoke' operations.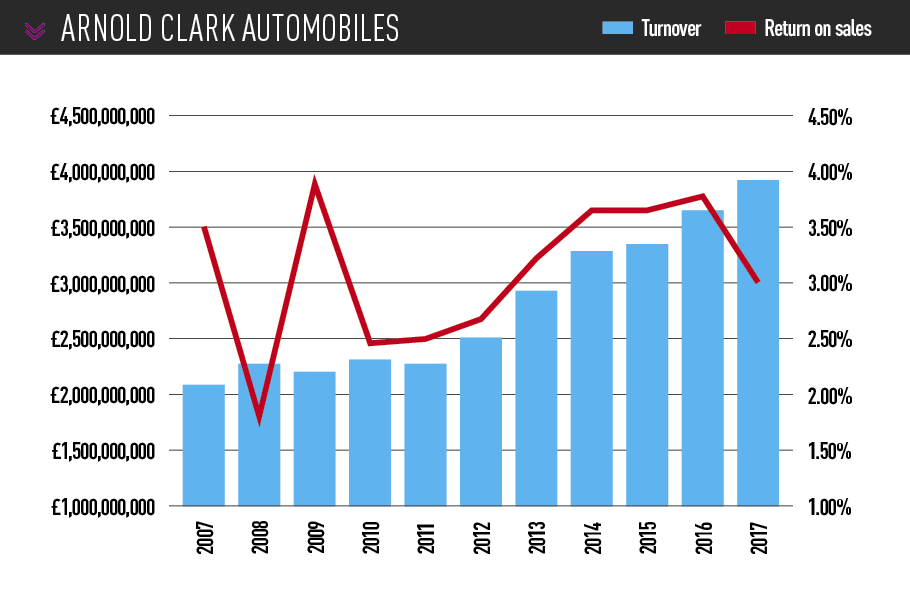 'One dealership - one franchise' questioned
The group will happily expand with its manufacturer partners, but Arnold Clark, like many dealer groups and manufacturers, is considering whether a full dealership will be required at all points in a networks.
That does not mean small franchised dealerships are undesirable, Hawthorne said, because in some communities a small, well-run 'local garage' dealership remains vital.
But they must cover their costs.
He said the costs of running a large site are substantial, but for small sites they are proportionally just as significant. And costs seem to only go up.
Hawthorne said some of the biggest current challenges are business rates and bank charges. Since 2017, banks' debit card charges rose from 60p per transaction to 3% of the price, and Hawthorne said this has cost the group "a couple of million pounds" year-on-year.
Growing its used car brand
Growth is certain for the network of Arnold Clark Motorstores, its used car supermarket brand.
There are currently 23, with another three being added this year, including one in a former Toys R Us store in Bolton. Each stocks a few hundred cars, but has access to the group's 20,000+ used car stock. Relative to franchised dealerships, the costs of these Motorstores are low, but the opportunity is huge, and they are steadily bringing the Arnold Clark brand further south to more parts of England.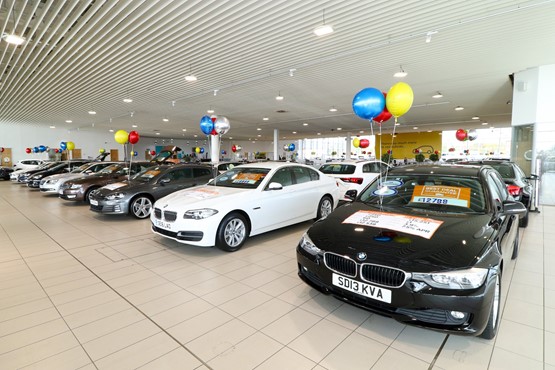 Separate to these are three Arnold Clark Delivery Centres, at Southampton, Lingfield, near Gatwick, and Milton Keynes. All opened within the past two years, occupying industrial properties, and Hawthorne said there will be more. These currently sell about 1,000 cars a month.
Each allows a consumer anywhere in the country to find a car on the group's website, pay £95 to have it reserved and transported to their nearest delivery centre within days. They can then attend the site, spend a little time with a product genius and decide whether to buy it while on the property.
Underpinning this service is the group's transport division, which has a fleet of 46 vehicle transporters that operates 24/7.
If an online customer requests a delivery centre vehicle – IP addresses help the Arnold Clark website to identify where a user is and to launch a pop-up asking if they'd like to use its delivery centre service – the sales system pushes that order out to the transport system, which guarantees its arrival at a delivery centre within five days. Hawthorne said he couldn't promise that speed of service if it were using an external transport contractor.
The group has found that buyers in London are happy to go to Milton Keynes or Lingfield for collection.
Hawthorne said the company will only provide home delivery for customers who have issues getting to an Arnold Clark site, such as those living in remote areas. "We want 95% of our customers to experience the physical environment," said Hawthorne.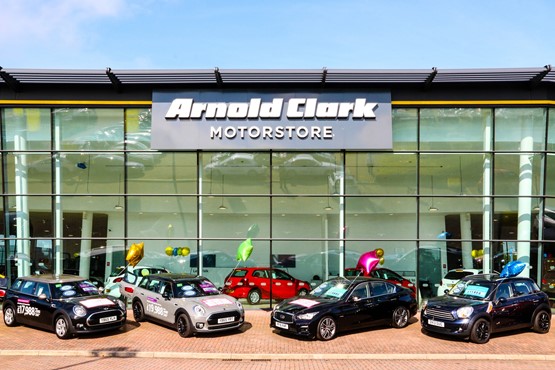 How is Arnold Clark so profitable?
Arnold Clark has long featured high among the top 20 most profitable AM100 dealer groups, so what drives its profitability?
Hawthorne said the group has a very prudent strategy and simple business rules. It sits on a lot of cash, so it can be entrepreneurial when it needs to be. It won't spend more than it makes. Most of the profits after tax and dividends are re-invested into the business. It doesn't borrow money to buy anything substantial and 96% of its 330 properties are freehold.
It has also invested in properties around the UK that are leased to other dealers. Hawthorne said that came about when the group had spare cash and investment houses were looking to divest showrooms from their portfolios.
"We don't get that much with the money in the bank, so we're getting 5% or 6% return from these properties. As my old chairman used to say: 'They don't make land'. Therefore it will have a value."
The core of Arnold Clark's strength is its presence in all parts of the motor retail supply chain, from fleet management and daily rental to its own finance and insurance companies, a van conversion business, trade parts motor factors and a network of about 40 bodyshops.
If a motorist needs something, Arnold Clark can supply it.
However, each branch of Arnold Clark has a working group entitled 'Think Customer'. Hawthorne believes that when looking for improvements in customer service and business efficiency, there is no better source than the people who work in the group. He has a folder thick with ideas from staff that the group has implemented – and funding for good ideas is readily offered.
He described it as a continual process and the business benefits from the resultant efficiencies. For example, a technician in one working group came up with the idea for a yellow bag for customers to put their locking wheel nuts into and leave on the front seat. It saves an average 10 minutes per technician because they no longer need to hunt for the wheel nuts, and it eradicated customer complaints about missing ones.
The company wants staff to feel it is a family business – albeit a very large one – that is involved in the community and wants people to progress and to have security.
ACE - the employee app
Communication has to be slick in a group with more than 10,000 employees, so the group developed an app, ACE (Arnold Clark Employee), through which it shares company information with all staff. It even has an 'Ask The Boss' function, which messages Hawthorne directly.
As a family business, the death of Sir Arnold Clark in April 2017 was a particularly sad event. Hawthorne and fellow directors were out in the branches on a round of director presentations, and the staff knew support was there. "Staff that had been in the business for a long time felt it more than those who maybe didn't know Sir Arnold on a personal basis, but it was something we were able to deal with," said Hawthorne.
"Our view was that we're going to go sell more cars and service more cars because that's what the boss would've wanted. People asked should we shut for the day, and I thought 'no, he'll come back and haunt me. Absolutely not'. All he ever wanted to do was to serve more customers and sell cars and hours. We keep doing that."