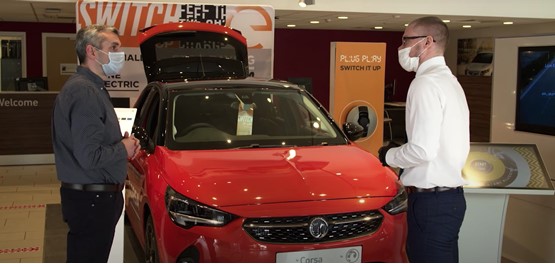 The strength of a car dealer's partnership with their franchise has probably never faced a test on the level seen over the past six months.
While senior dealership teams were formulating their strategies for what would be the eventual reopening of showrooms in June, the onus was also on manufacturers to step in and do all they could to maintain their networks and set them up for a bumper September before the uncertainty of a COVID-19 winter.
Part of that has been helping to guide customers with how best to operate in post-lockdown based on adapted versions of the National Franchised Dealers Association (NFDA) and Society of Motor Manufacturers and Traders' (SMMT) safe restart guidelines. This included offering point of sale materials (at a cost), as well as sourcing personal protective equipment (PPE) kits, distance markers and screens.
Establishing clear communication and some certainty for retailers was the immediate priority for all the manufacturers AM spoke to. All have made heavy use of the now ubiquitous video conferencing services to keep their networks informed before reopening.
Kia, AM's Franchise of the Year winner for 2020, wanted to make communication as open as possible. It quickly established a new video conferencing dealer forum called Keep in Touch With Kia, where those in the network can dial in to regular Zoom meetings
to get updates from the senior team, as well as voice any concerns or request support.
Simon Hetherington, Kia UK commercial director, said: "It's been good to keep that feedback loop open as we can't go on visits or to events. So, we can talk about what we're getting right and what we're getting wrong."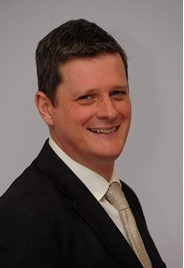 PSA UK, AM's manufacturer of the year for 2020, has also been holding fortnightly and sometimes weekly video conference meetings with the Peugeot, Citroën, DS and Vauxhall networks.
David March (pictured), PSA UK network development director, said: "The biggest questions that came up ahead of reopening during those video calls were mostly about securing stock and the logistics of making sure we had volume ready for the recovery."
Dale Wyatt, Suzuki UK director, said the first thing to do before reopening was give dealers certainty. He wrote personal letters to each dealer and said: "We suspended all brand costs and brought all bonus payments forward. We put together a couple of webinars to keep everyone informed. I try to call a few dealers on Facetime every day just to check in and see how they're getting on."
Wyatt separated the return back to work into four phases. Stage one was titled lockdown, two was 'getting back on your feet', followed by 'up and running' and then 'sprinting to the finish line'.
He said dealers are currently at stage three 'up and running', but it was important not to bombard and overload retailers.
Wyatt said: "We're not reintroducing targets and we're not policing standards. Bonus payments are paid up front. We know they need certainty."
The Japanese brand also took the decision to make a specific television campaign around Vitara Hybrid and Swift Hybrid that would focus on the fact the Suzuki dealer network was back open and ready to "help get you back on the road".
Peter Allibon, Mazda UK sales director, said the most important thing about the lockdown for his brand has been the financial viability of the network. Mazda communicated what its approach would be between June until the end of September.
This included postponing mystery shops until at least the end of September and guaranteeing all dealer margins, albeit at a slightly reduced level. Ewan Shepherd, Lexus UK director, said: "We took an early approach to establish strong communication with the network at least three times a week.
"We concluded that safety was the number one priority for customers and staff so we swept aside our usual set of standards and replaced them with a mandatory set of requirements that built on the NFDA and SMMT guidelines. We quickly got a 100% sign up from the network."
COVID-19-SAFE CAR SHOWROOMS
While retailers in the UK need to operate in a safe way, following the SMMT and NFDA's sector-specific guidance, the majority of carmakers AM spoke to were not prescriptive about the exact way in which dealers should operate in a post-lockdown environment.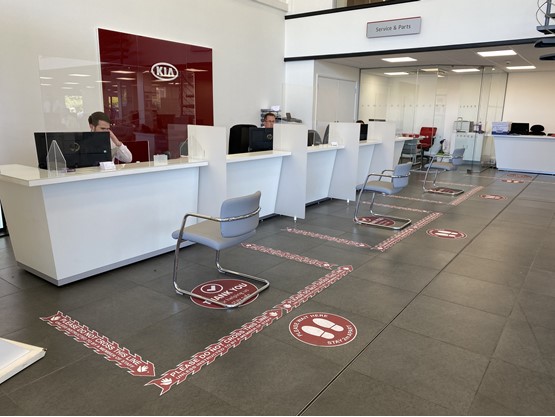 It means the set-up of each showroom, irrespective of brand, should be quite similar if they're all following the "COVID-19: Industry guidance and best practice for automotive retail" document.
As Hetherington explained, there's no reason for a dealership, regardless of brand, to not follow the industry guidance, given that to not do so would jeopardise their business and the safety of staff and customers.
Hetherington said: "We've never liked telling dealers how to do their jobs and we try to be as hands off from that side of things as possible.
"We're relatively flexible on things like standards and we moved away from mystery shops some time ago."
Kia won't be auditing dealers to make sure they're operating in a way that is post-lockdown friendly. While there's no tick box list that needs to be implemented, Kia has shared best practice ideas around social distancing and arranging visits by appointment.
This article first appeared in the September issue of AM magazine, which is available to read for free here in digital format.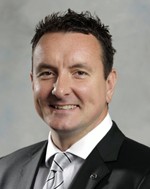 Allibon (pictured) agreed that aligning any franchise-specific guidance with the SMMT and NFDA was important. He said: "The last thing dealers want is for 22 different franchises to start saying how they should be operating and setting out their showrooms."
While PSA UK customers are welcome to wait in showrooms that have socially distanced waiting areas, there won't be the usual refreshments other than bottled water.
March said: "It's important customers feel safe and that they know the retailers are doing everything they can to minimise any risks. One of our dealers has been putting on removable stickers that show the vehicle has been valeted and COVID-free. I thought that was a nice touch to help customers feel more at ease."
March has been discussing bringing mystery shops in Q3 or Q4 but it's likely to be restricted to just digital, rather than physical. He said: "We also don't want mystery shops to be punitive.
"We do want to check on the operational standards, but in a way that's supportive, rather than used as a way to punish."
Kia and PSA UK put together a series of videos for dealers to use online to help explain what customers can expect when they come into the dealership.
The PSA UK videos were put together with the help of its Robins and Day retail group business and its training academy.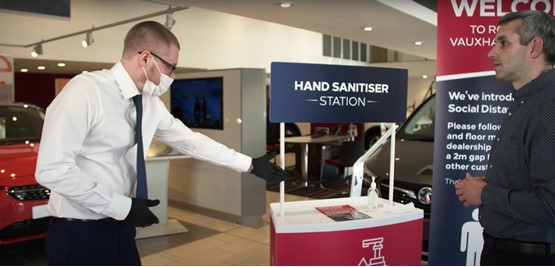 Product-specific videos were also put together to assist in the handover process and to show the latest technology on each product. These can also be emailed to customers.
Wyatt said: "We haven't said, you must do this and that. We've put together the Government checklist advice and suggested ideas like having proper routes through the dealership."
However, Suzuki is planning to restart mystery shops in the future and these will look at elements around social distancing and operating in an environment to minimise COVID-19 transmission.
To help aid buyer confidence, Suzuki put in place a seven day, no quibble returns policy. While Wyatt acknowledges this policy isn't too dissimilar to the legal rights customers already enjoy to return a vehicle, he said being more overt about a returns policy will help with consumer confidence, particularly at a time when there is uncertainty about going to showrooms and making big purchase decisions.
Wyatt said: "I'd like it to be a permanent part of our brand's story.
"There was some nervousness from the network about it, but we agreed that if a customer isn't happy we would work with them around returning a vehicle, anyway, so it's just a good way to get that messaging across that they can have the confidence to shop with us."
THE CUSTOMER PREPARATION CONSULTANT
Lexus, known for its customer service first approach, did put mandatory standards in place for a post-lockdown showroom experience. These are built on the SMMT and NFDA guidelines.
Mystery shops and customer satisfaction surveys restarted when showrooms reopened in June.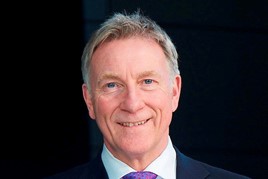 Shepherd (pictured) said: "As well as safety, our biggest priority will always be excellence with the customer experience."
In what has been a challenging year, Lexus has retained the top spot for Auto Express's Driver Power survey as the best new car franchise with an overall satisfaction rate of 93.42%. It's the fourth year in a row Lexus has taken the top spot.
Shepherd said the Japanese hospitality concept of omotenashi (treating customers as though they are a guest in your own home) is being maintained, even though the way customers interact in a post-lockdown showroom has changed.
Lexus dealerships all have hosts, but he said this role has become more important than ever to help guide customers through the showroom in a safe way.
Post-lockdown opening has also prompted the creation of a new role for some in the Lexus network in the form of a customer preparation consultant.
These consultants call before a service or sales consultation to talk through what customers can expect if they're coming into the showroom and also to find out any specific requirements.
Shepherd said: "We want to find out if customers are happy to come into the showroom because they might not be. If they're not, we will help facilitate another way.
"Whether that's home delivery, collecting vehicles and dropping them off for servicing or offering video calls through WhatsApp or Facetime.
"We want to ensure we're maintaining that boutique hotel experience."
Some Lexus dealers have also introduced customer account managers that have a group of customers they are responsible for on sales and servicing.
It's something that came up as a result of feedback between the network and Lexus during lockdown and Shepherd thinks it's something that could take off due to how successful it's been so far.
While some niceties like quality coffee and nibbles in the showroom are suspended due to social distancing, Shepherd believes the majority of customers understand the restrictions, but appreciate retailers anticipating their needs and taking the time to find out how they would like to be treated.
Some dealers in the network have extended opening times from 7am to 10pm while others are running 8am to 8pm to help space out customers to protect them and staff.
Longer opening times also helps ensure there is enough time to properly decontaminate and valet vehicles correctly.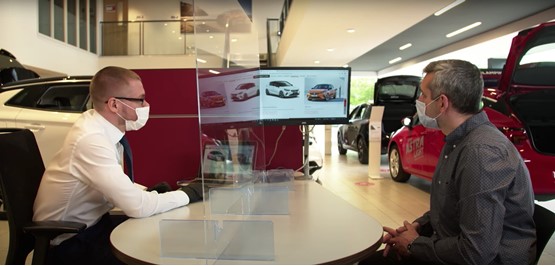 PSA UK is piloting a digital showroom concept where the customer experience includes more use of video to interact with customers directly to bring them into the showroom and explain the product. This can be supported with the product demonstration videos put together by Robins and Day.
It's being run for three months before it will be reviewed for a potential roll-out across the networks.
Suzuki is now putting an even greater focus on looking at digital marketing channels and making sure digital showrooms are fit for purpose in a world that is embracing online sales even further.
Wyatt is supportive of home deliveries as long as it can be done in a way that is still a "brand experience".
He said: "The sales process has changed and we've gone from making sure we're picking up on leads, to increasing the speed of response to introducing additional content.
"Customer expectations are increasing all the time and I think lockdown has prompted investment in better video equipment and skills in front of and behind the camera."
Wyatt said personalised high quality video content has meant more dealers in his network are looking to recruit those with video production experience.
Mazda has been encouraging flexible customer experience solutions spurred on by its MyWay scheme in London that offered customers home delivery and collection and delivery for servicing.
The network has been asked to sign up to offer some customer convenience measures so Mazda can put some marketing power behind how flexible buying a Mazda can be.
Allibon said: "It's a pretty loose set of guidelines, but the main point is flexibility.
"It's offering remote sales consultations through video, offering flexible delivery and service options and remote product demonstrations."
While some dealers were already offering these things, Mazda wants to make more noise so it can start promoting that "when you buy a Mazda, you can buy it your way".
Signing up to these customer convenience measures isn't mandatory, but Mazda will be publishing a list of "participating dealers" that do raise their hands.