Tracks of Exeter has seen a marked expansion in the reach of its recruitment marketing for staff after taking part in AM's Best UK Dealerships to Work For initiative.
Harry Ody, Tracks of Exeter marketing manager and sales executive, said that taking part in the free employment survey gave the company a marked increase in applicants from further afield than its local area interested in working at the business since its award win at AM Live last November.
"The latest addition to our sales team joined us from previously working with Rolls Royce in Kuala Lumpur, Malaysia," he said.
Being one of the AM's UK Best Dealerships to Work For has also given a boost to the Suzuki retailer's referral business and Ody said being part of the initiative had a knock-on effect there too.
Ody said: "Customers often comment on the fun and friendly work environment at the dealership which is certified by the award on display in our reception area.
"Happy staff equals happy customers and as a result we've seen a continued increase in referral business over the past year."
Ody said the award showed the Tracks team enjoy coming to work each day, they're proud of their job, and who they work for.
He added: "Nowadays retail is so focused around customer satisfaction but it's equally important to understand the thoughts of the people who make your business a success – the staff – and participating in the survey is a great way of capturing their anonymous feedback."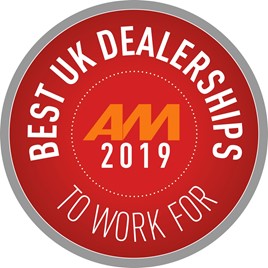 Registration for this year's Best UK Dealerships to Work For survey are now open for those businesses wishing to enter for 2019, with participants reminded that they can enter – and be in with a chance of official recognition at AM Live 2019 in November – entirely for free. The deadline to enter is June 7.
Franchised dealerships can sign up to take the employment survey free of charge and if the results aren't strong enough to be listed as part of AM's Best UK Dealerships to Work For, no-one outside of the business will know and the feedback can be used to improve.
For those businesses that are successful, they will get free use of the AM Best UK Dealerships To Work For logo for recruitment marketing.
They will also get a Best Dealership To Work For trophy to display in the workplace and press release templates for use.
Benefits also include free registration to AM's flagship Automotive Management Live 2019 exhibition at Birmingham NEC, where the awards will be presented.
The head of the overall highest scoring dealership will also receive a VIP invitation to the 2020 AM Awards, to join AM on the front tables, and to be presented with their award again on the grand stage at the flagship event for the automotive industry.
There is also the option to purchase a detailed report from Best Companies Group, with the employees' anonymised responses to each of the survey's questions, verbatim comments and benchmarking data. This is purely optional. No purchase is necessary to take part.