TrustFord succeeded in raising over £116,000 for automotive sector benevolent charity Ben by travelling a combined distance of more than 20,000 miles in just 25 hours during the Breakout for Ben 2019 challenge.
A total of 37 teams set out from the Ford of Britain-owned AM100 car retail group's fleet distribution centre at Long Marston at 11am last Thursday (October 17) morning and by midday the following days some had travelled as far as Croatia, Lithuania and Gibraltar.
After 25 hours on the road The Chairman's Prize for the Furthest Destination achieved during the long-distance rally went to a combined the team from the Kingston, Cobham, Byfleet and Epsom dealerships who made it all the way to Niš, in Serbia – 1,556 miles away.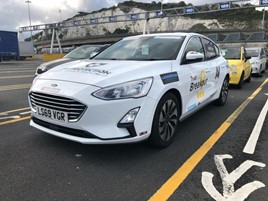 Stuart Foulds, the chairman and chief executive of TrustFord, said: "Ben is a hugely important charity that has helped thousands of colleagues over the years, so we are proud to support its work.
"Our Breakout for Ben challenge is the largest single fundraising event we've ever completed as a group and was a huge team effort.
"I'm glad the teams had fun on the road and returned safely with many tales to tell friends and family of their adventures for this very worthy cause."
Ben chief executive, Zara Ross, said: "We're delighted that TrustFord has supported us once again through Breakout for Ben, a fantastic event which has involved so much planning, thought and initiative.
"Our funding comes entirely from the automotive industry, so initiatives like this are vital to help us provide support to those going through some of life's toughest challenges.
"We can't thank everyone at TrustFord enough for taking part in this challenge, raising such a significant sum of money and to those who donated."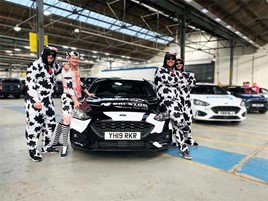 Breakout For Ben competitors drove a fleet of specially-branded Ford Focus or Ford Tourneo vehicles on the Breakout For Ben event.
Each team was made up of ether TrustFord employees – whoc were able to takle part without eating into their annual holiday allowance – or suppliers keen to take on the now annual challenge.
While the event's "winning team" made it as far as Niš, in Serbia, the third prize went to one of the supplier teams - Mann Island - who made it to Gibraltar.
Other far-off destinations reached over the weekend included Lithuania, Sweden and Croatia.
The awards for best fancy dress by a supplier team went to the team from Autotrader.
Despite the great distances travelled, all of the breakouts were carbon neutral thanks to the support of Castrol who will be offsetting their emissions with BP Target Neutral credits to fund low carbon development projects around the world.
Distance was not the only factor judged in the challenge. Some drivers focused on maximum mileage with minimum environmental impact.
Foulds first set the challenge to raise as much money for Ben as possible in 2018, when teams raised a total of £112,000.
This year, the teams exceeded their target raising £116,000 with funds still coming in.
The award for the Most Money Raised went to The Bell Ringers F&I Team who raised £11,350.